Sponsored • Integrated system
Accurate Real-Time Imaging Leads to Better Breast Biopsy Patient Experience
When it comes to your patient's health, certainty matters. Breast biopsies play a vital role in the continuum of care for women, providing insights into mass and calcification identification so you can make the best-informed decisions on behalf of your patients.
Hologic's Brevera® Breast Biopsy system is the world's first and only breast biopsy solution to combine vacuum-assisted tissue acquisition, real-time imaging, verification and advanced post-biopsy handling—all in one, integrated system.1 The Brevera system stands out from traditional breast biopsy systems that are inefficient for physicians, radiologists, and patients by providing real-time answers you can feel confident passing onto your patients.
After 25 years in the field as a breast radiologist, Dr. Lidy Wijers at Alrijne Hospital in Leiderdorp, Netherlands, recommends the Brevera system because of its real-time results and accuracy, which has enabled her hospital to provide a better patient experience and improve workflow.
Verified Real-Time Imaging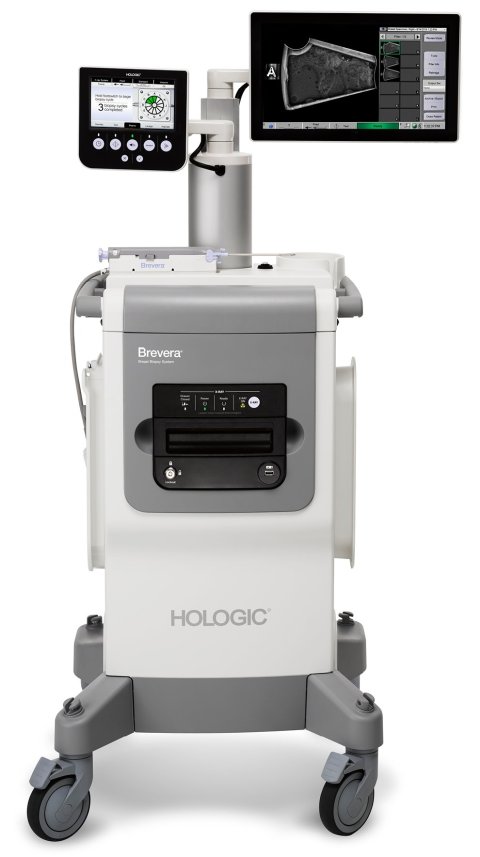 Dr. Wijers recalls her experiences before the hospital acquired the Brevera system, and the uncertainty they experienced with traditional procedures. Previously, radiologists would acquire samples and place them in petri dishes, which would be taken into another room and imaged with a mammography machine.
With the Brevera system, samples can be verified in real time through the integrated specimen chamber that incorporates CorLumina® imaging technology. This unique technology allows physicians to make informed clinical decisions with confidence and save valuable time. The built-in image enhancement tools enable quicker identification of faint calcifications on the high-resolution touch-screen monitor.
Because of the CorLumina system, images begin to appear after just a few samples are taken and can help guide physician decisions throughout the process. Compare this to traditional systems, which can require a physician to keep a patient under compression while they examine sometimes 12 or more samples in another imaging room.
"Hologic's Brevera system offers the most important breakthrough in all biopsy systems. While taking samples of the breast, the specimen is verified in real-time. It's unique and gives more certainty to patients and radiologists," said Dr. Wijers. "Patients can feel confident that specimen were captured without the radiologist leaving the room."
Improved Patient Experience
Dr. Wijers strives to provide compassionate care to her patients, and she chose the Brevera system in hopes of reducing patient anxiety and fears around their breast biopsy experience. With this system, patients are under compression for less time because she's able to gather samples in only three steps, combining tissue acquisition, imaging, verification, and sample prep for an optimal experience, with the potential to save 13 minutes on average per patient.2
The Brevera system is quick and accurate, saving us time with the real-time images of the specimen

Lidy Wijers
Fast and accurate procedures mean less time under compression for patients and can result in a more positive biopsy experience—so much so that 9 out of every 10 patients felt less uncomfortable with their Brevera breast biopsy procedure than they expected.3 Additionally, patients felt their biopsy experience was faster than they expected in over 94% of procedures with the Brevera system.3
While patients are under compression for less time, they're also reassured by the real-time imaging that samples of the mass or calcification were correctly captured with instant core verification.1 Dr. Wijers says patients are often relieved when they can see the results right away without having to wait for additional procedure steps.
"I call this the positive post-biopsy experience," said Dr. Wijers. "The Brevera system is quick and accurate, saving us time with the real-time images of the specimen. The procedure is shorter, which is always a relief to the patient."
Optimized Workflow
The system is more accurate and faster, so more patients can be treated

Lidy Wijers
With the integrated specimen chamber built into the system, Dr. Wijers noted that radiologists no longer need to handle the samples and take them into another room for imaging.
With a traditional breast biopsy procedure, samples are taken into a different room while patients remain under compression. The sample strands are separated to analyze for calcifications and then, the radiologist will return to the room to retrieve more samples or finish the procedure. In comparison, with the Brevera system, it's all completed in one location.
"The system is more accurate and faster, so more patients can be treated," said Dr. Wijers. "We no longer need the second imaging room, so now it can be used for another patient or to make images of a specimen coming from the OR."
The Brevera biopsy system enables more flexibility within the facility through its accurate and succinct imaging process and improved workflow so there is less time for patients to wait between mass identification and their biopsy. This compassionate care helps patients undergo a better biopsy experience.
Learn more at Hologic.com/MinutesMatter.
References:
1 Hologic Data on file: VAR 05326
2 Inspired Insight online survey, April 2019 with 49 Brevera® users.
3 Results from, "A Prospective, Block Stratified Clinical Trial to Evaluate the Performance and Operation of the Brevera® Breast Biopsy System" (NCT03300206) (US)
More on the subject:
More on companies: