A "one-stop-shop" for disaster, rescue and emergency care
Visitors coming to MEDICA to purchase pre-hospital emergency equipment will not be disappointed. Specialist exhibitors are plentiful this year.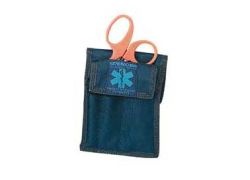 'The aptly named First Care Products, for example, reports that its goods are: combat and clinically proven to provide benefits to victims and care-givers and have become relied upon as vital equipment in the treatment of haemorrhage and trauma related injuries'. Among its wares is the Emergency Bandage, which consolidates numerous pieces of equipment into a single device. Upon application, immediate pressure is exerted on the wound through its sterile, non-adherent pad, to bring about haemostasis. The bandage also provides a sterile secondary dressing, immobilisation of an injured limb or body part, and can be used to effect even more direct pressure to arrest severe bleeding. An additional advantage: it also can be self-applied.
This firm is launching new products at Medica. So, take a look!
Spencer Italia Srl also specialises in emergency rescue, life support and first response products, as well as health and safety goods. This firm is not only proud of its quality certification, but also its environmental record; the plastics used in products are 100% recyclable and painting methods are non-polluting: 'We invest in research for environmental protection because we feel obliged towards the Star of Life, which marks our brand, and towards the planet we all live on.'

Emergencia 2000 S.A., which has factories/offices in Europe (Spain, Portugal and Germany), Asia (SE branch in Bangkok) and America (USA) plus international distributors and agents, is truly a 'one-stop shop'. This firm's products include not only custom-designed ambulances but also ambulance accessories, stretchers, emergency and rescue equipment, folding carrying chairs, and devices for CPR, airway management, suction, resuscitation and oxygen, extrication and immobilisation, disaster management kits and much else. The company also provides educational books, videos and CDs for emergency training.

Turnkey projects
Emergencia 2000 has found a natural niche in pre-hospital emergency medicine turnkey projects.
In the news… the pre-hospital health/rescue video game
A team at the University of Illinois at Chicago, has developed a video game that could eliminate costly role-playing for training medical/rescue workers.

The series of simulations aims to realistically present events that could face health and rescue workers after a bio-terrorist attack, pandemic flu outbreak and other disasters in a major metropolitan area. It tracks how the 'player' responds to various scenarios, including how quickly patients they evaluate and treat patients.

Using bio-terrorism as the focus of first game, the video confronts health/rescue workers with potential problems possibly arising when thousands of them would have to dispense enormous amounts of drugs and vaccines following an attack. As the game opens, a TV newscaster warns of an anthrax attack. Following this, the public moves en masse towards emergency dispensing and vaccination centres. Among the 'people' arriving is someone who might have been exposed to anthrax and a hysteric who believes the world is ending.

Lars Ullberg, executive producer of the project at UIC's Centre for the Advancement of Distance Education, explained: 'In light of the disastrous response to Hurricane Katrina, it is clear that preparedness training needs to go a lot further. Simulations are the only efficient and cost-effective way to bridge the gap between theory and practice and to prepare our emergency workers for both the expected and unexpected.'