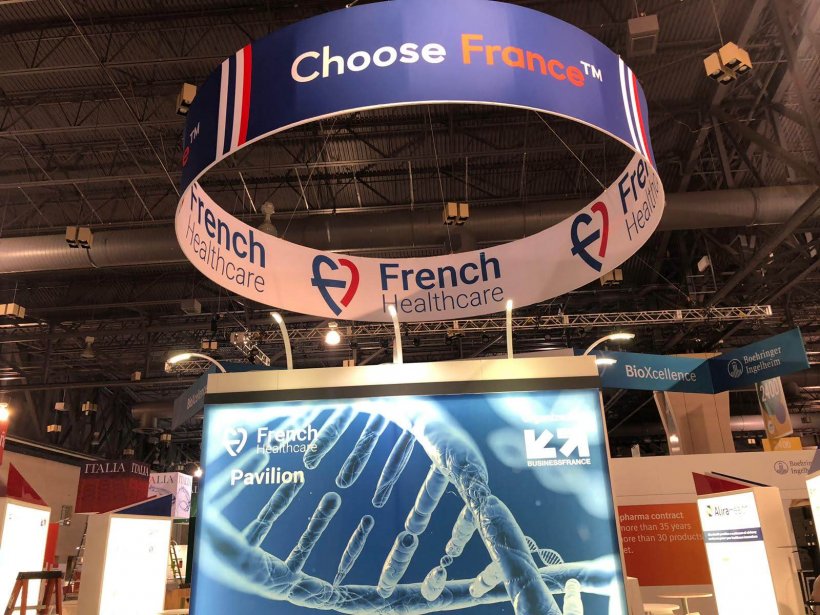 Image source: Business France
Sponsored • Trade fair presence
A myriad of French innovations at Medica 2021
This year as every year, the very best in global HealthTech will be converging on Dusseldorf for the Medica trade fair. With more than 127 companies attending the event from November 15-18, France will have one of the largest contingents there. Grouped together under the brand umbrella of "French Healthcare", the French MedTech companies will be presenting their many innovations to industry professionals in five halls (3, 4, 7a, 14 and 15).
French expertise will be widely showcased at Medica's forums and conferences. The Medica Connected Healthcare Forum (MCHF) from November 15-18 (hall 12) will feature: Wandercraft, the hands-free, self-balanced exoskeleton for gait rehabilitation; Withings (connected watches) on the role of connected devices in generalizing at-home healthcare; BeFC on Powering the future – Energy generation with paper and enzymes; on the subject of AI/data analytics in healthcare: Arkhn, How to build a hospital data architecture? and Wefight, Leveraging AI to empower patients and collect patient-generated health data; at the Solutions for hospitals and care centers session, Implicity will present a revolutionary cardiac remote monitoring platform; at the FemTech session, Fizimed will present EMY (a connected, medical-grade Kegel trainer for strengthening the pelvic floor after pregnancy).
On Tuesday, November 16 at the MCHF: The TOP12 Medical Startups 2021 pitches (health apps, robotics, AI in healthcare & others) for the Medica Startup Competition – "Driving the future of digital health" (hall 12); ExactCure, one of the 12 MedTech finalists, will talk about "Personalized drug simulations for personalized medication".
On Wednesday, November 17, Solsteo will present its ethylene oxide sterilizers and gas treatment systems at the "Compamed Suppliers Forum by Devicemed" (hall 14) on impacts and solutions for EO sterilization users.
On Thursday, November 18 at the "Medica Medicine + Sports conference" (CCD South), PKVitality (smart watches that track patients' glucose levels) will take part in Session 5 (Evidence-based diagnostics – New methods and findings) where it will discuss continuous glucose and lactate monitoring to improve performance and health; Blueback will take part in Session 7 (Digital innovations in sports & healthcare) where it will talk about "Real-time monitoring of deep abdominal muscles: a new innovation for groin pain prevention & treatment, and efficient RTS programs".
Finally, in addition to the conferences, French Healthcare is organizing three online pitching sessions from Monday, November 15 on the following topics: remote diagnoses, monitoring and surveillance with Quantiq (AI, image processing, medical expertise and physics to provide telemetry and accurate diagnoses), Feet Me (leader in gait and activity assessment solutions for diagnosis, monitoring and rehabilitation purposes), ExactCure (personalized eHealth software solution), Wemed (connected medical devices) and SGH Healthcaring (plastics solutions for the medical market); health, sports & rehabilitation with Noraker (bioactive glass), Mad-Up (technological solutions for rehabilitation), EBiody (bioimpedance analyzer), K-invent (innovative measuring and training devices), Cryo Manufacturing (whole-body cryotherapy cabins) and Teknimed (products for orthopedics, trauma, sports medicine and spine surgery); and artificial intelligence in images with Intrasense (medical imaging software suite offering a broad range of clinical applications dedicated to organs and pathologies), AZmed (AI applications in the health field), Milvue (integrating deep learning algorithms into the daily medical workflow), aiVision (artificial intelligence in ophthalmology) and Medsquare (digitization, analysis and sharing of medical imaging data).
French excellence spans across every therapeutic area. For example, Oncomedics (hall 3) provides clinical laboratories and hospitals with in-vitro tests for analyzing the density of colon tumors. Mad-up (hall 4) provides physiotherapists with medical devices for rehabilitation. Spartha Medical develops hygienic coatings for medical devices and other equipment, and an antigenic spray for hospitals and medical equipment manufacturers. Healtis, a laboratory that provides manufacturers with advice and support on certification, medical device safety and R&D design, will be exhibiting at Compamed in hall 14.
Generally speaking, the French HealthTech sector is gaining momentum and aims to become the European leader within the next few years. The French government will invest €7 billion in research and innovation by 2030. This investment will not only support research, but it will also speed up the clinical trial process while maintaining high standards of reliability. This ambitious strategy aims to make France Europe's most innovative and sovereign nation when it comes to healthcare.
During the Covid-19 pandemic, French companies have placed over 100 innovative new products on the market to help fight the virus, demonstrating France's potential in the medical innovation field.
Source: Business France