Imaging
84-inch 8MP displays strengthen consultations
More is better – when it comes to medical display technology a higher resolution is a desirable feature of next generation displays. Today, the number of pixels alone is just one of many factors that distinguishes a display developed specifically for diagnostic purpose from those designed for regular use. Shinji Nohara, Product Manager for Pro/Colour/Medical Desktop Display at NEC Display Solutions Europe, gives this report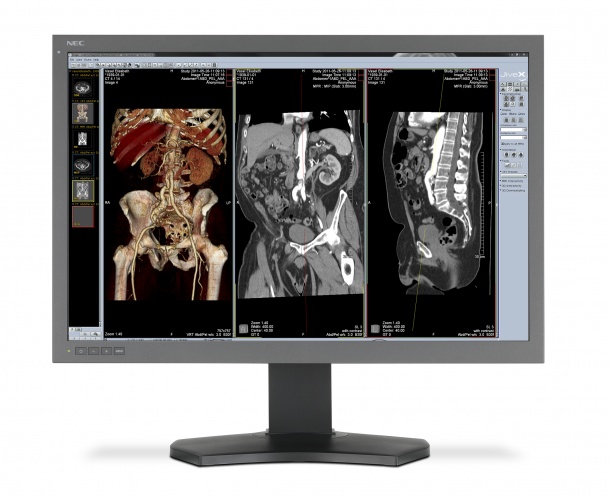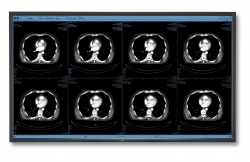 Medical displays: More than in any other sector, high contrast is essential. Only with outstanding capabilities can a radiologist distinguish between different structures in an image and detect even the smallest irregularities like a metastasis.
Higher resolution is the future
Apart from the introduction of colour the resolution has also changed, so that 3-megapixel with the same quality is possible without any problems. Assistant tools offered by software – such as those used for measuring the size of tissue – are easier to spot in colour, which makes the software easier to operate and another person reviewing the results can find marked portions of the image better.
Another trend is to combine two 3-megapixel monitors into one 6-megapixel installation. With this resolution it is possible to review the huge amount of images of modern diagnostic tools in a more efficient, ergonomic way.
The importance of quality control
Together with even better displays, the need for a centralised quality control arises. Particularly in big hospitals, it is time consuming to control and calibrate each display at the workspace. Software tools that connect all workstations and their connected displays together mean you can access displays any time and check the live status, such as temperature or backlight hours. It is therefore a tool to maintain displays and see the last calibration reports and conformance test reports. Overall, the better the IT infrastructure is in a hospital the more features can be used from the software.
To make the software work, most medical display models in the NEC line-up have a small front sensor for calibration. All monitors come with a free client software licence for GammaCompMD QA.
Better displays – better treatment
Trends in displays such as 4K have reached the medical area and will continue to change the way details in radiology can be viewed. Large 84-inch 8MP (4K UHD) displays, compliant to the DICOM Part 14 standard are starting to replace traditional projectors in hospital meeting rooms. At group diagnosis meetings, doctors from different disciplines, e.g. radiology and oncology, can discuss medical images in far better quality. As medical imaging technology progresses with new generations of MRI and CT, display technology makes its contribution. The better the image, the better physicians can detect and cure diseases. NEC Display Solutions is proud to be part of a technological revolution that has a direct impact on many people's quality of life.