WoHIT 2010
Report: Denise Hennig
The World of Health IT Conference & Exhibition (WoHIT) -- the first joint eHealth conference of the European Commission and the Healthcare Information and Management Systems Society (HIMSS Europe) --- was held in Barcelona this March, creating Europe's largest gathering of Information and Communication Technologies (ICTs) stakeholder groups as well as end-users, hospital CEOs, practitioners and patients.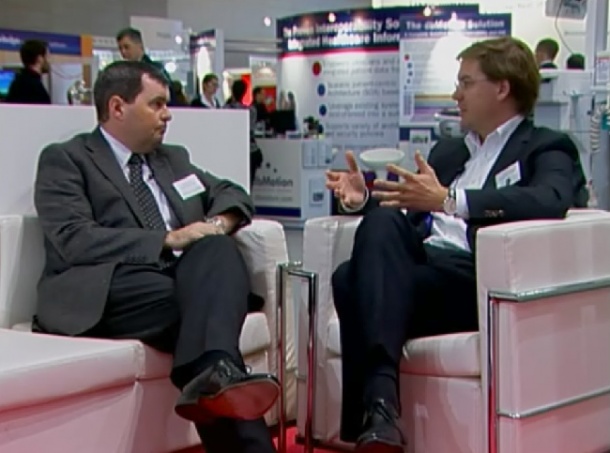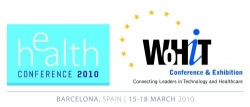 For two decades, the European Commission has been supporting EU research through the funding of more than 450 projects for a total of €1 billion, enabling Europe to take the lead in research and innovation in the field. During the 8th Ministerial eHealth Conference, EU ministers outlined a joint vision and policy priorities on how to make eHealth more accessible, interactive and customised to patients.
The declaration, which outlines a vision and identifies key objectives to be achieved in the next ten years, is crucial, said Neelie Kroes, Vice President of the European Commission. 'This is what we believe – the ministers, governments and the Commission. It's also our to-do list. It's the beginning of a new era. Time is not our friend. We have to start with eHealth implementation now. Unless we embrace eHealth today, our health systems will not work tomorrow. The key is a single European eHealth market.'
Among IT firms demonstrating innovations, Dell introduced Mobile Clinical Computing (MCC), a mobile solution for hospital IT that gives clinical staff bedside access to patient data. No matter on which terminal a clinician logs in, the latest electronic patient record (EPR) can be accessed. 'Roaming throughout the hospital – this advantage is a big benefit for the quality of patient care,' said Paul Curley, Clinical Director of the NHS Mid-Yorkshire Hospital, UK. 'It's time-saving; we have all needed the latest available data to discuss the next diagnostic or treatment steps.'
Management of a hospital's high data volumes with quick, secure and reliable access to required data are major challenges for manufacturers. 'A professional understanding of the complexities of migrating from paper to EPRs in the modern healthcare environment is the basis to implement an efficient network. Backup and archiving are fundamental to any data management strategy,' said Tony Cotterill, CEO of BridgeHead Software. 'Healthcare storage virtualisation [HSV] helps hospitals to realise the full potential of EPR systems, because HSV empowers hospitals to meet their growing storage needs without compromising on the current hardware brand or media type. HSV separates applications from the storage device, allowing multiple applications to tap into the same resources and increasing overall utilisation of the storage resource.'
Patient focused citizen services are needed not only during any hospital stay, but also prior to admission. For several years Finnish public healthcare organisations have been running the SMS Pre-Call Request service provided by Tieto, an interactive SMS solution. The asks each patient, beforehand, whether the date and time of an offered appointment are suitable, thus reducing the need to reschedule appointments. 'Pre-Call Request reduced cancelled appointments by 20%,' Arto Ryymin, Executive Vice-President of Healthcare & Welfare, pointed out. 'It brings significant health benefits, eases the daily routines of healthcare professionals and improves organisational productivity. In addition, this service makes the appointment booking process more patient-oriented.'
eHealth could potentially solve some of Europe's pressing healthcare problems, caused by more people demanding more care in an ageing society. But it also encompasses some great economical opportunities. Let's go for it.