'Shopping' as a growth strategy
Celenus regroups on the rehabilitation market and aims for the top through acquisitions, Susanne Werner reports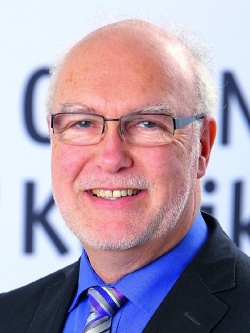 The objective is ambitious: Based in Offenburg Baden-Württemberg, Celenus-Kliniken GmbH wants to double its turnover by 2015. Turnover is to increase to €70 million by the end of this year, and to €150 million in four years time. The strategy is clear, with the bulk of the growth envisaged via acquisitions. 'We want to be amongst the top group of operators running rehabilitation clinics in Germany,' says Dr Christoph Löschmann, member of the board and responsible for quality management, IT and marketing at Celenus-Kliniken. Twelve clinics as well as a sports centre and a rehabilitation centre are already owned by the group, but it aims to run around 18-20 clinics. At the latest addition, a specialist clinic for psychosomatic rehabilitation opened in Freiburg in September, around 50 doctors, nurses and therapists will concentrate on the treatment of stress and pain-related diseases in the 115-bed clinic. The Celenus group has around 1,200 employees in Germany and looks after around 2,000 inpatients.
Takeover: Marseille Kliniken rehabilitation clinics Celenus-Kliniken has been on the market for about a year. Until spring 2010, the rehabilitation clinics were part of the Hamburg-based Marseille group. However, the Marseille-Kliniken sold off this part of their business because it was no longer a key focus. The sell-off resulted in the formation of Celenus-Kliniken GmbH, with Munich-based Auctus Capital Partners AG as the stakeholder.
MD Berthold Müller, who was involved in the sale whilst still at Marseille-Kliniken, as well as Dr Bernd Fromm and Professor Ulrich T Egle, are all on the management board. Dr Fromm is a specialist for orthopaedics, physical medicine and rehabilitation and Medical Director at the Gotthard-Schettler-Klinik in Bad Schönborn. Prof. Egle is a specialist for psychosomatic medicine and psychotherapy and Medical Director of the Klinik Kinzigtal in Gengenbach, which has been treating stress and painrelated diseases for several years,
and demand has soared to the stage where it now has a waiting list for treatment. The new clinic in Freiburg is to also 'appeal to discerning patients with statutory as well as private medical insurance,' Dr Löschmann says. The single rooms are luxuriously equipped, with some up to 40m2 in size.
Regional networking Eight out of 12 Celenus clinics are located in Baden-Württemberg. However, further growth is not to be limited to Southwest Germany. 'We already have three locations in the new Laender and want to expand these,' explains Dr Löschmann, who believes the rehabilitation market will become more regionalised in the future. Therefore, the next step is to form local clusters and drive the networking of hospitals and clinics in those respective regions. 'We don't want to build stand-alone institutions,' he says. Celenus is to be seen as a parent brand and seal of approval for these locations. A further objective: Despite good capacity utilisation in psychosomatics, there is no plan to concentrate on individual medical specialties. 'We definitely want to offer complete solutions for the rehabilitation market,' he says. 'Orthopaedics, oncology and cardiology are already represented in our group. Neurology will be the next, important discipline.'
Efficient processes for future rehabilitation Doubtless, rehabilitation is a central growth area in the healthcare market. After all, an ageing society is increasingly looking for ways to preserve health and employment for as long as possible. It has also gained more health-political importance, on a par with prevention. 'Prevention before rehabilitation and care,' is the new motto. Whilst rehabilitation is gaining importance, the financial means remain limited. This also means that companies that are not economically viable are likely to disappear. This will particularly hit smaller clinics that are not part of a network or chain, whilst the remaining clinics will become part of larger networks. Result: Networking of local service providers is mandatory – with the joint objective of steering patients along paths of care across the sectors. Slim line and efficient processes are vital for the survival of hospital operators: Celenus, Dr Löschmann points out, is therefore set up like a 'matrix organisation'. Purchasing, quality management, financial administration, IT and marketing are largely centrally run via head office. Services and processes are scaled and run in the same way in all locations to allow a fast transfer of knowledge and decisions across the entire group. 'The effects of synergy make the music here and the larger the company the more important they become,' he adds.
More offers: Small and mediumsize companies Outpatient rehabilitation, so the experts - including those at the German Pension Insurance Federation - will become a lot more important and will be more closely linked with prevention. The Celenus-Kliniken also wants to point the way here and has announced its intention to become more involved in occupational healthcare management. After all, employers should have a vested interest in seeing their employees stay healthy, Dr Löschmann adds, particularly in view of the increasing lack of skilled employees: 'We want to become a centre of competency for employers.' Celenus Managing Director Berthold Müller adds: 'In view of the increasing number of sick days taken due to psychological problems we see a potential in offers for occupational healthcare management and the reintegration of the long-term sick.' It would, for instance, be conceivable that Celenus doctors carry out check-ups and comprehensive diagnoses of employees' health and then present a healthcare plan with the options on offer, from exercise training to dietary advice and psychotherapeutic support. The group is already in contact with individual companies and offers such advice. Smaller and medium-size firms, which usually require external support in these matters, are the main target group.