Trends in stents and balloon angioplasty
Stent fever, first diagnosed in 1997, has been spreading throughout the medical world – fuelled by new technologies, says Holger Zorn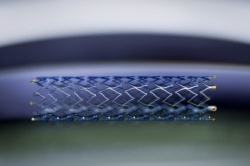 When, 25 years ago, Ulrich Sigwart, from Lausanne University Hospital, began to implant the first 24 stents in coronary arteries of 19 patients, he hoped 'that this vascular endoprosthesis may offer a useful way to prevent occlusion and re-stenosis after transluminal angioplasty' [N Engl J Med 1987;316:701-6]. Sigwart had vision. Just a decade on, 'stent fever' had spread among his colleagues [Eur Heart J 1997;18:552-3].
At that time, balloon-expandable bare metal stents (BMS) were the gold standard. These were mesh-likes tubes of thin wire made from stainless steel, tantalum or, more recently, from a cobalt chromium alloy, like the PRO-Kinetic stent.
Biotronik, the leading German manufacturer, uses this as a platform technology to design the today's gold standard, drug-eluting stents (DES), where the mesh tube is coated with a drug releasing biopolymer to limit the growth of neointima, thus preventing stent restenosis.
This May at the EuroPCR congress, Martial Hamon MD (Caen University Hospital), presented the final first-in-man (FIM) Orsiro Hybrid DES trial results: In-stent late lumen loss at nine months, the primary endpoint, was of 0.05±0.22 mm. 'The results are especially encouraging considering the challenging patient characteristics, atypical for a FIM trial - a medical history including 73% previous MI and 23% diabetic patients,' Dr Hamon commented. 'The exceptional deliverability of Orsiro is a necessity with the degree of complex stenting that is performed in current cath lab practice.' His colleagues appear to agree.
Meanwhile, Michael Haude at Neuss Luke Hospital, enrolled the first patient in a prospective international trial that will randomise around 440 patients with Biotronik's Orsiro or Abbott's Xience Prime at 19 European sites.
Such innovations increase the fever. MedMarket Diligence, LLC, the California-based publisher of medical technology market and assessment reports, analysed the worldwide coronary stent market. Based on 2008 data, of US$6,965 million for all coronary stents, US$4,375 million was spent for DES and US$2,590 million for BMS [Source: MedMarket Diligence Report #C245 'Worldwide Market for Drug-Eluting, Bare and Other Coronary Stents, 2008-2017'. May 2009]. Patrick Driscoll, the firm's founder, predicts a compound annual growth rate (CAGR) of 4.3% for DES by 2017, of 1.6% for BMS.
He predicts a CAGR of 29.6%(!) for bio-absorbable stents (BAS), the next innovation in intraluminal stent technology. Made from biodegradable polymers (e.g. polycaprolactone) or biocorrodible metals (e.g. magnesium alloy) they may allow local drug or gene delivery. Cardiologist Ron Waksman from Washington Hospital Centre, said: 'They do their job and disappear' [J Invasive Cardiol 2006;18:70-4]. However, Patrick Driscoll no longer believes the 29.4% CAGR is likely for those products. 'The strength and priorities of the market have shifted, as evidenced in the least by J&J's decision to exit the market'.
A more recent analysis, fully focused on Europe, confirms the market momentum, but requires a different focus. Based on 2010 data, with more than 880,000 angioplasties performed, the coronary stent market was valued at over €870,000,000 [iData Research Inc., Report EUIC11. 'European Markets for interventional cardiology devices', pub: 3-2011].
The analysts also found that, '70% of PTCA balloon catheters sold in Europe were not used for stent placement, but for pre-dilating the vessel before placing a stent'.
This number is also known to the founders of Avidal Vascular, a Halle based start-up that won the federal German Founders Champion 2010 prize in the category Economically Successful in the High Tech Sector category. Their wraps over medical balloon technology (Wombat) is designed to treat de novo or in-stent stenosis and more efficient than any other drug eluting device.
CEO Torsten Heilmann, one of the founders, explains: 'Current state-of-the-art drug-eluting stents work with drug release sustained over months. Metal stent and carrier polymer remain in the body. This is of inadequate biocompatibility. Long and expensive oral follow-up medication is the consequence. Our drug eluting balloon allows higher drug release within one minute during dilatation'.
Studies have shown neither drug washout nor emboli – a new technology, expected to be marketed as of 2012. Then, the fever may rise again.