The most useful EU-supported venture
The Eastern Lithuania Cardiology Project (ELCP)
The Eastern Lithuania Cardiology Project (ELCP) - an integral inter-institutional regional project sponsored by the Lithuanian Government and the European Structural Funds, which began in 2004 - will end this year. In May, those who voted on the Lithuanian EU Support official website (a specially organised event, focusing on all EU-supported projects in all fields) nominated this project as the most useful among all EU-supported projects.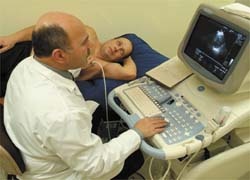 It is worth mentioning, that the ELCP was the very first in the medical field in the Baltic countries to be supported according to the Single Programming Document. Geographically and demographically it covers one third of Lithuania. Considering its success, it is now clear that the project will expand to cover the entire country. The project managers are proud that Latvian colleagues are very interested to begin their own projects based on ELCP experience.
By the end of November approximately ?20 million will be spent to achieve numerous project goals; the most important of these include reduction of cardiovascular diseases (CVD), related mortality and morbidity, as well as improvement of quality and accessibility of healthcare services among the population of the eastern and south-eastern regions of Lithuania. Despite many economical and political changes here, mortality and morbidity levels due to CVD in Lithuania still remained one of the highest in Europe and was three times higher compared with the average of the 'former' EU countries before May 2004.
Lithuania's eastern region is the most problematic and depressed area in the entire country – in terms of lowest social and economical levels; lowest incomes; the multinational composition of the region, having Lithuanian, Polish, Russian and Byelorussian populations, and the environmental hazard of its proximity to Ignalina's atomic station. Epidemiological data shows that health indices in this region are worse than the country's other regions.
Additionally, inherited from the Soviet period, the infrastructure of healthcare services, with one characteristic feature – the very broad gap between 'big centre' healthcare service capabilities and professional level, compared with the 'small periphery'. All this has two unfavourable consequences. First, a disproportionally high concentration of doctors/specialists in the 'big centre' and second: the disproportionally high patient numbers sent by general practitioners (GPs) working at the periphery to the doctors/specialists in the big centre. 'Our University Hospital's workload was enormous. Cardiologist consultations have reached 300 thousands annually, which means almost every tenth man in Lithuania has visited our hospital for cardiology care. It has become clear that we must change the infrastructure as soon as possible,' explained ELCP director Dr K Mazurkevicius.

Important features: complexity and interconnection
No such work can be done alone; this project is not an exception. It unites 40 partners and incorporates all three levels of the Lithuania healthcare system. 21 primary healthcare centres, distributed in 15 administrative districts of eastern Lithuania, will adapt to the project, with digital ECG recorders and digital stethoscopes used by GPs in every small surgery, and transferring results to the special ELCP database. Every cardiology department in all 15 district hospitals should be equipped with modern cardiac ultrasound equipment, a bicycle stress testing system, Holter's monitor system and event recorder. 'By placing all that equipment in district hospitals, as well as very close to the GPs, we expect to unload a major part of cardiology consultations from our Vilnius University Hospital to all 15 district hospitals. We expect to reduce the cardiology waiting list at the district hospital to one week and not longer at the university hospital if such a consultation is necessary,' Dr Mazurkevicius predicted.
The ELCP also intends to upgrade cardiology services at the Vilnius University Hospital. This includes establishing a state-of-the-art endothelium function evaluation laboratory. This will enable early assessment of atherosclerosis and early risk stratification. Cardiac perfusion and viability will be assessed using SPECT and multi-slice CT with the fusing option. The hospital's cardiology service will have additional units for interventional procedures and beds for intensive care.
For comprehensive cardiac care, two cardiac rehabilitation centres and Kaunas University Hospital (a cardiac arrhythmia centre) were included in the project and all the partners interconnected via high-speed networking capable of maintaining real-time diagnosis of ultrasound images supported by ECG and sound from a digital stethoscope. All patients presented at any ELCP partner institution will have a personal electronic patient record (EPR) at the project's common 24 TB capacity database, which has 20 terminals for telemedicine. The network is planned to be multipurpose. First, it will provide immediate and precise assessment by university-based specialists of tricky cases presented at any of the 15 cardiology departments in district hospitals. Routinely organised teleconferences will enable management of patients' cases and peer consultations. Virtual interconnection is supported by four mobile teams settled in four mobile intensive care ambulances, working on duty round o'clock and covering the whole region.
Another project – same goals
Even before planning the ELCP project it was clear that one project is not enough. The Eastern Lithuania Cardiology Project alone will create an additional workload - 50 new jobs are estimated - and that is a half the problem. 30 of those jobs are for cardiologists capable of managing a district cardiology department. 'It was the most challenging task. Actually we were revising and interviewing almost every single internal medicine doctor, closely related to cardiology by his/her everyday practice in each of our 15 district hospitals, and we have selected 30, who wanted to continue their medical education and rearrange their speciality to cardiology.'
Another Single Programming Document-supported Project was introduced almost at the same time as ELCP and special traineeship at Vilnius University was organised. After three years training, 30 former internal medicine doctors have graduated in cardiology and, after successful examination will be licensed to practice cardiology.