The enduring respiratory valve
Back in 1938, the precision machinist and innovator Hans Rudolph created what is possibly the first respiratory valve specifically for human/animal pulmonary studies.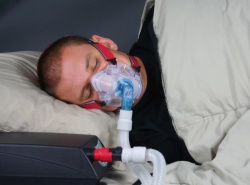 The valve separates inhaled air from exhaled air, showing how efficiently a person's lungs convert oxygen to carbon dioxide. That valve is still the primary product of the company founded by the inventor in 1960.
Today, Hans Rudolph Inc. manufactures a wide variety of products, all for use in respiratory studies and therapy. These include the masks patients wear to measure air flow and equipment to calibrate machines used in respiratory research and testing. The company manufactures and sells masks used by sleep labs during sleep studies to diagnose obstructive sleep apnoea (OSA) and, once a patient is diagnosed, Hans Rudolph sells the CPAP/BiLevel/NIV Masks for them to use at home to treat their OSA.
The company has been perfecting its products for over 50 years – among the latest being the fourth-generation model of the continuous positive airway pressure (CPAP) mask – primarily used to treat sleep apnoea. 'The product is far superior to any other CPAP or NIV mask on the market,' said Wayne Grooters, medical product distributor and owner of Sovereign Medical LLC in North Carolina, USA.
The hospital disposable masks are made of soft materials and do not cause irritation and skin problems, Grooters added. The anatomical design lets it fit, rather than sit, on the face, meaning less leak and more comfort for ventilated patients. Finally, he noted, it's the only mask that allows users to wear glasses.
'We're seeing a huge growth in using the silicone face mask in the pulmonary function lab for stress testing and that sort of thing,' said Kevin Rudolph, the third-generation CEO. 'Then we're making all sorts of custom modifications to adapt these to all the other manufacturers' products. So they buy them from us with a custom adapter and put it in the kits that go out with their instruments, and pulmonary/exercise testing systems, and then we get the after-market business.'
Rudolph said the firm is starting to grab a lot of business from original equipment manufacturers (OEMs) that make a variety of respiratory machines for hospitals and clinics. The OEMs would rather buy a mask from a specialist than make it themselves. 'We try to specialise in areas that OEMs can benefit from and not impede on their real business, which is the instrumentation and pulmonary testing systems that we don't really get into,' Rudolph explained. 'It transforms us from a competitor into a partner, and that's good business for us.'
»Hans Rudolph Inc. is at Medica
USA Pavillon
Hall 16 / Stand D20-15