Medica
DTR Medical: latest product developments at Medica 2014
Over in Hall 16, in the Wales Pavilion, an extensive instrument range from the single-use surgical instrument manufacturer, is on show from DTR Medical Ltd. Included are precision electro surgery instruments. 'Micro Needle Electrodes (both tungsten and stainless steel variants) offer first time sharpness with fine, precise tissue dissection,' the firm reports. The range also includes diathermy forceps – (an extended bipolar range to include McPherson and Monopolar) and Loops and Balls.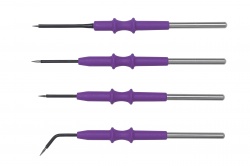 'Further highlights include the CombiHook, an innovative colposcopy device developed alongside a selection of leading colposcopists, that enhances existing procedures specifically in cervical manipulation, where stabilisation helps to secure the clinician's vision during the procedure.'
Since launching at Medica 2013, the DTR's renewably sourced Rotating Cervical Biopsy Punch has been well received by clinicians worldwide, the firm adds.
'A recent independent Life Cycle Analysis (LCA) study supports evidence that the instrument is 2.8 times less harmful to the environment than a standard Tischler.
'The handle is made from DuPont's Sorona plastic with 20-37% renewable material, utilising a renewably sourced propanediol (PDO) made from technical starch – a truly green innovation!'
Supporting the motto "Visibility, quality and safety in your supply chain", the firm has integrated machine readable GS1-standard barcode labels across its instrument range, '… for improved product traceability with an increasing number of healthcare providers worldwide adopting an eProcurement strategy,' DTR points out.
Details: www.dtrmedical.com
DTR is at Medica
The Wales Pavilion
Hall 16 / Stand F42