The artificial patient
Holger Zorn reports on a new dimension in medical training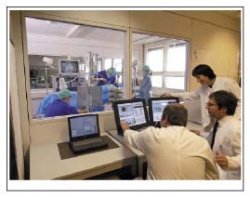 Pilots train on simulators and so do doctors who specialise in emergency care, because, in extreme situations, doing the right thing is not something that can be learned from books - it requires practice, without endangering passengers or patients respectively. However, although paramedics and anaesthetists have used simulators during their training for several years, one of the most complex treatments - extracorporeal circulation, i.e. taking over the cardiovascular functions of a patient - had not attracted that much interest. Now, the first simulator for extracorporeal circulation during heart surgery- has been introduced.

Named CardioSim, the world's first Perfusion Simulator was introduced to clinical users during the 34th Annual Meeting of the German Society for Cardiovascular Engineering in May this year. CardioSim simulates critical situations that can occur in a patient or the heart lung machine during extracorporeal circulation. For example, tubes might kink, cannulas twist, air might enter the venous system, cooling water could enter the bloodstream, blood filters become blocked, gas membranes leak, the pH-value move. All these are extremely rare incidents but require immediate action to avoid damage to a patient. Every action is recorded and evaluated. Using CardioSim, the trainers can step in at critical moments and analyse any incorrect reactions, because the system offers real-time control. The simulator is not only being used for safety training but also to train cardiac technicians.

CardioSim was developed under Professor Gerd Haimerl MD Dipl-Ing. (BA) at the Centre for Applied Simulation, Technical University Furtwangen, Department Villingen-Schwenningen, in co-operation with the Department for Cardiac and Vascular Surgery at the University Hospital Freiburg. The project, which to date has cost around €500,000 is funded by the Ministry for Science, Research and Arts in Baden-Wuerttemberg and by the German Society for Cardiovascular Engineering.

The simulator is to be used as a platform for research and innovation in extracorporeal circulation. Additionally, Prof. Haimerl believes that, one day, it will be able to simulate all organ-preserving systems, from dialysis to the artificial heart.