Taking the customer's pulse
Dr Volker Wetekam talked to European Hospital about the HIS as a local business, how to set priorities in quality and about IT in the times of Web 2.0
With 1,600 customers and a 30-40% market share in Germany, Austria, France and Switzerland, IT and imaging enterprise Agfa and its hospital-wide IT solution Orbis are ahead of the game. Dr Volker Wetekam, Executive Vice President of the IT Division, Agfa Healthcare, speaks of a technological advantage of as much as two to three years in the key segments -- PACS, cardiology and regional health -- compared to other European companies.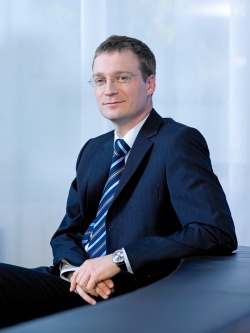 Why does Dr Volker Wetekam believe Agfa is better placed in the healthcare IT segment than larger in vivo imaging companies? Because, he explains, 'The services of the leading medical technology companies are mainly based around the development of clinical image and post processing applications. Our strength lies in linking these post processing applications from interface diagnostics closely with PACS, regional health and eHealth products, which is why customers of leading modality enterprises talk to us. In most cases this cooperation runs smoothly.
Could the market for PACS become saturated?
Indeed, the classic PACS market decreased by around 15% in 2010. There are only a few countries, such as France and Italy, which still record a growth in this segment. However, Agfa was able to increase its volume significantly, despite the difficult market environment. In North America orders increased by more than 30%, and worldwide we gained more than 180 new customers in the first ten months of last year.
'We can see a lot of movement in the market, in Europe as well as in Latin America and North America. However, we don't have any plans to roll out our hospital information system Orbis worldwide. The HIS and CIS business is a local not global business. This is why we concentrate on selected countries in Europe, i.e. mainly Germany, France, England, Belgium, Austria, Switzerland and Luxembourg. By focusing on these countries we can guarantee a very high functional bandwidth, as well as the implementation of high quality and standardisation requirements.
What are the firm's plans for the future?
'The main strategy consists of a further expansion of existing software applications as well as the development of new generations of products. With Orbis we cover 85% of clinical processes. It's a big challenge for us to prioritise our customers' numerous requirements. This is why, in 2008 and 2009, we introduced standardised development processes in the PACS, RIS, HIS and cardiology business. These prioritise customer requirements based on whether they improve quality of care as well as cutting costs. In addition, twice a year we invite some customers from Europe, North America and Asia to our so-called Clinical Customer Advisory Boards to find out whether our road map helps them, both clinically and economically.
How important is the integration of modern web services such as cloud computing, or even social media?
'If we want to develop our applications further in the healthcare sector we'll certainly have to be open to this integration. However, one should not forget that social media platforms, such as Facebook, do not operate though the sale of software or IT infrastructures, but through personalised marketing and merchandising. This has little to do with the traditional enterprise IT business, in which Agfa is involved. However, what we can indeed learn from Facebook, Google & Co. is dealing with internet-based technologies, such as cloud-based software installations. For instance, we are working on the development of an online platform based on the principle of crowd sourcing. There are more and more components, which our Orbis and Impax customers can develop better than we can. Therefore, we are offering them this web-based platform for them to develop hanging protocols and teaching files and exchange these amongst themselves.
'We want to make new technologies that originate outside the healthcare IT sector available to our customers. We therefore intentionally recruit our staff from other industries and sectors. This will help us to expand our technological advantage further.'
More on the subject:
More on companies: