STARLED3 NX
Surgical led lamp for countless applications
STARLED3 NX is a lamp manufactured by ACEM based on the Next generation LED technology, assuring cold light, long life and low energy consumption. The lamp is suitable for countless applications both for surgery and operating room. It is ideal for diagnosis, dental sector, gynecology, dermatology, general medicine and surgery.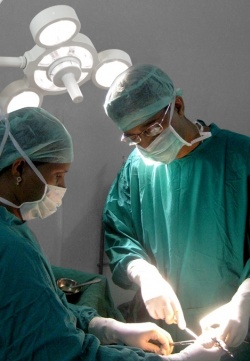 STARLED3 NX grants a homogeneous and shadowless light thanks to its special LED optics created by ACEM Medical Company that directs light beams at best according to the needs. The visual area is perfectly illuminated assuring both excellent visual comfort and working conditions. Its next generation LEDs produce an unparalleled quality of light with a colour temperature (CCT) of 4.500 °K and a colour rendering index (CRI) of 95.
STARLED3 NX has a light intensity of 130.000 lux (160.000 lux optional) with a low energy consumption of 69W. The life cycle of its LEDs is about 50.000 hours.
STARLED3 NX is composed by three reflectors that produce a well-blended and intense cone of light focusable through the automatic adjustment of the light spot diameter. Its slim, practical and compact design makes it perfect for several uses. The lamp is ergonomic, easy to move and to position and suitable for the laminar flows of the operating room. Its ENDO function (light for endoscopy) gives the possibility to use STARLED3 NX for minimal-invasive surgery too. The easy -to-clean shape and material of STARLED3 NX as well as its removable, sterilizable and easy-to-grip handle assure an excellent cleanliness.
Functions are adjusted by its innovative easy-to-read, ergonomic and easy-to-clean I-SENSE control panel. With a simple touch it can manage easily and accurately:
• ON/OFF function
• Light intensity adjustment
• DoF - Depth of Field - for a deep light
• ENDO - Light for endoscopy ideal for minimal-invasive surgery
• SIZE - Light spot diameter adjustment to focus the operating area
• SYNC - Function (optional) useful to synchronize controls of the combined lamps: STARLED3 NX double (twin dome configuration) and STARLED3 NX together with STARLED5 NX or STARLED7 NX.
STARLED3 NX is available in 3 versions: Ceiling mounted, (Single, double configuration or together with other STARLED NX lamps) , Wall mounted, Trolley mounted (ABPS battery on demand).