Shopping for bargains at a virtual trade show
Stretchers, beds, furniture, defibrillators, scanners, pumps, sterilizing units, indeed equipment for all medical disciplines and departments, you name it, a browse around the website and a bit of bidding could provide your hospital with just what it needs – and save money.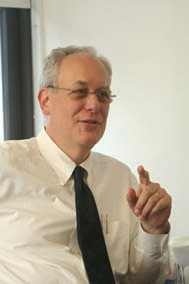 Having established a link on our European Hospital website, asked Philip Jacobus, founder and President of DOTmed, to explain for our readers how buying and selling second hand medical equipment online actually works.
'The United States is really the trailblazer when it comes to how it deals with used equipment,' says Philip Jacobus, President of DOTmed. 'There are brokers and dealers selling equipment, independent service companies, spare parts companies and refurbishers. An interesting dynamic in the US is that many of the major OEMs have adopted their own programme for refurbishing and selling used equipment, whereas in the old days the manufacturers only sold new. In the US the market for used equipment is much more developed than anywhere in the world because the OEMs are now selling both new and used, and there are a number of people involved in buying and selling used equipment.'
Why should European hospitals care about what happens to their used equipment?
'Because the economy is not booming, being able to remarket used equipment or sell used equipment for a profit - rather than trade it in for less of a profit - is a good thing. They should care about it because it generates additional revenue.
'The market for used equipment has grown. In addition, hospitals save when they sell equipment because not only do they generate a profit, they don't have to spend money to get the equipment de-installed.'
Whilst there is a market in the US for used equipment, Europeans appear to sell their equipment beyond Europe – is that correct?
'Yes and no. More people in the US buy used equipment than in Europe, and there are probably more people in India and South America buying used equipment than in Europe. However, there are more people in Europe buying used equipment than there were 10 years ago. Based on the traffic that we see [on DOTmed.com] from European hospitals, we know that interest in used equipment in Europe by hospital personnel is on the rise.'
How can European Hospital readers use the Internet to sell their used equipment?
'Nowadays anybody can use the Internet to do just about anything. We have about 20,000 people a day that visit our website from around the world. You go to the website, do a search, find companies that specialise in the products that you're selling, and then you contact them.
'We offer auctions that allow people to list their equipment and take bids semi-anonymously. You can use our site to price things and it doesn't cost you anything. You see what price other people are selling a similar product for and that gives you some idea of what your product is worth.'
What percentage of used equipment is sold on the Internet?
'I'd say probably 70 percent of all used equipment sales -- outside of the equipment that's sold by OEMs -originates on the Internet.
How does selling via the Net help sellers to gain a higher price and speed up the sale?
'The Internet is more efficient; it allows a seller to expose their equipment to more people, and because the equipment is exposed to more people you're more likely to get bids. When you have competitive bids, the price is more likely to go up.'
How are the logistics handled in the United States?
In the United States, the dealers, brokers and refurbishing companies specialize in used equipment and they know what they're doing. If you sell to a doctor in Nigeria, he may have no clue as to how he's going to de-install that machine. That's why hospitals in the United States turn to industry professionals who can handle that work for the doctor in Nigeria. It's easier for the hospital to sell to the industry professional - and let them handle those problems - than it is to sell to the doctor directly. Our company handles that sort of work for the hospitals.'
Are there companies in Europe that can help sellers, including DOTmed, to de-install, etc.?
'Yes. A hospital can use DOTmed to find companies that buy and sell equipment. They can use DOTmed to auction the equipment and check ratings. We have a whole ethical component to our website, so a European hospital can go to DOTmed.com to investigate a company and determine if they think that company is qualified. They can find other companies and they can even turn that work over to DOTmed and we will handle it for them.
How simple is it to go through European Hospital and list equipment on DOTmed?
'DOTmed has an established relationship with European Hospital that affords users special access to our website, including free registration and a discount off of our normal rates. You just go to European Hospital's website (www.european-hospital.com), click on the DOTmed link, and then you'll be taken to a special page where you can register.
'We have about 200 people that register on our site every day; it only takes a few minutes to do and it costs nothing to list. It's one of the easiest ways to attract competitive bidding on your equipment so you get a fair market price.'