Seoul: The 29th KIMES
Technology enables a happy life – and pulls in thousands, Michael Reiter reports
Through recent decades, the Republic of Korea in East Asia has developed into a society with an advanced economy. To Europeans, the culture and cuisine are certainly very different – and highly attractive to tourists.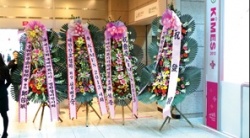 However, in terms of business things look similar to our western lives. The per-capita GNP generated by the 50 million inhabitants compares well with the better positioned member states of the European Union.
Every year, the Korea International Medical & Hospital Equipment Show (KIMES) provides a showcase for the country's medical technology achievements, whilst also attracting international manufacturers naturally interested in this dynamic healthcare market with around 90% of its hospital beds privately managed.
Cutting-edge equipment, ubiquitous healthcare, as well as digital medical information systems were among the highlights of the 29th KIMES (www.kimes.kr) last March, when around 65,000 South Koreans came to Seoul's COEX Conference Centre, mingling with 2,800 buyers from beyond the country, including numerous delegations.
During four days, nearly 500 South Korean exhibitors presented products and solutions, among them flagships such as Alpinion, BIT Computer, DK (Dong Kang) Medical, HDX, JW Choongwae, LG+, Listem, Samsung, Medien International, and UB Care. Regional governments support the industry; at KIMES 2013, pavilions showcased companies from Daegu, Gyeonggi-do, and Gyeongsangnam-do provinces as well as Wonju Medtech Valley.
Among the 1,000+ international companies were Fuji, GE, Hitachi, Philips, Shimadzu, and Siemens. Seven country pavilions grouped together products from China, Germany, Hungary, Japan, Taiwan, Pakistan, and the USA. A representative of the event's organiser, Korea E&EX, said exhibitors reported a very positive response, and the market in general, with investments in particular, is moving at a fast pace.
More than 100 management and academic seminars informed firms and care providers on key trends and topics, including government policies impacting on the medical devices market and how to address the global market aimed at industry representatives. Collaboration options between academia and industry was also geared at both groups.
Successful Seoul
Korea's Ministry of Trade, Industry and Energy selected KIMES as one of the four leading shows presenting the country's industry to the world, a KIMES rep said proudly. The government judges the med-tech industry to be a key sector propelling Korean economy in the future and will provide financial and political backing for the industry. Those accolades suggest that KIMES will again attract key healthcare players in 2014. Make a date: 13-16 March in the attractive city of Seoul.