Sponsored • Percutaneous coronary intervention (PCI)
Robotic angioplasty: The future of endovascular interventions
An exciting development from an innovative French company is poised for a major breakthrough in European markets.
Report: Jane MacDougall
As is now well-known, coronary angioplasty is a procedure that widens and/or unblocks the arteries to the heart by the insertion and inflation of a balloon and/or stent into the vessel lumen. In modern practice, a stent is normally left in place to ensure the blood flow remains unhindered. Known collectively as percutaneous coronary intervention, PCI, angioplasty with stenting is one of the most widely performed procedures worldwide.
Driven by the burden of cardiovascular disease on human health, the specialty of PCI is characterised by continuous growth and rapid advances in technology in the quest for better results. While innovations in stents, guidewires, catheters, suturing and of course imaging have facilitated outcomes over many years, it is only relatively recently that robotic assistance for PCI has been considered with the CorPath robotic system from Corindus (USA) being the most advanced to date.
Close collaboration with interventional cardiologists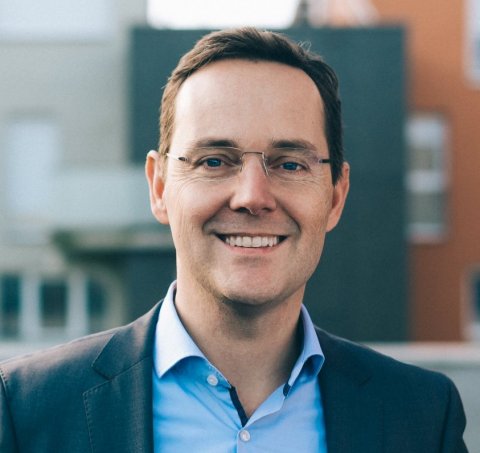 A French company, Robocath, based in Rouen, was set up in 2009 by Dr Philippe Bencteux to design, develop and commercialise robotic systems to help treat cardiovascular diseases. Robocath, which now has more than 25 employees, has received financial support from regional and national investment funds. Its business model involves close collaboration with European interventional cardiologists to achieve a robotic system fit for purpose. By so doing, their robotic platform, R-One, has become the first European robotic solution to obtain the CE mark for use in interventional cardiology.
Obtained in February 2019, the CE mark means that the system can now be commercialised in Europe and the Middle East. Dr Bencteux explains that the potential for the system in Europe alone is enormous, with the possibility to install it in more than 3,000 procedure rooms and perform around 1.6 million interventions annually. The company is currently working to finalise a number of strategic distribution partnerships in geographic areas with high potential. The R-One is expected to launch throughout Europe and the Middle East in 2020.
Thanks to the practical approach to its design, R-One integrates seamlessly into cath lab protocols without introducing additional steps. The robot, which suits femoral or radial access, provides reliable and precise assistance to enhance the cardiologist's movements for a better clinical outcome. The possibility of remote delivery and manipulation of guidewires and stent/balloon devices during PCI has the added advantage of protecting the operator from radiation exposure. Clearly, ionising radiation is a constant in the work life of cath lab teams, potentially subjecting them to long-term health issues.
R-One consists of two core elements, a radio-protected control station from which, protected by a mobile radiation screen, the physician can remotely control the instruments by joysticks, and the robot with its articulated support arm. The robot is compatible with all leading manufacturers' devices: guidewires, stents, balloons and imaging systems, and is very easy to install. Although the learning curve is minimal, operators should first obtain specific training from Robocath on the use of the system before attempting to perform any intervention. Training sessions are provided on a frequent basis.
First two coronary angioplasties with R-One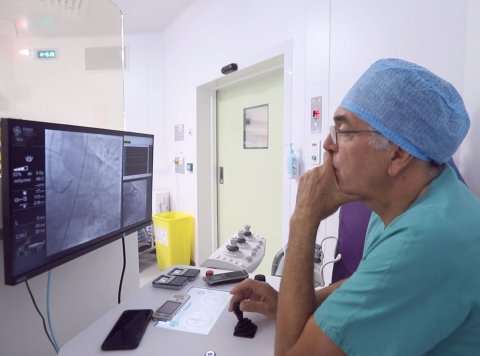 This September, the first two coronary angioplasties were performed with assistance of the R-One robotic platform. These successful procedures were undertaken at the Rouen University Hospital by Professors Durand and Sabatier, and at the Clinique Pasteur in Toulouse by Doctor Fajadet. The participating teams are very encouraged by these initial results and highly positive about the outcomes from the forthcoming trial they are also involved in. The safety and efficacy of the R-One platform in coronary angioplasty will be investigated in a prospective clinical trial. The first of its kind in Europe, the study will enrol 60 patients from six different centres, three of which are based in France (Rouen University Hospital, Caen University Hospital, Clinique Pasteur in Toulouse) and the other three in the Benelux countries.
Judging by Siemens' planned acquisition of Corindus for a purchase price of US$1.1 billion at the end of this year, robotic assistance is now very much recognised as the future of endovascular interventions. Robocath intends to be part of this. Among its R&D efforts, the group is exploring the possibility of robotic assistance in stroke and other vascular emergencies to guarantee all cardio-vascular patients benefit from the best care pathway available.
Profile:
Dr Philippe Bencteux is president and founder of Robocath. He has an MD from Caen University and specialist qualifications in radiology, medical imaging and business strategy. He also works as a radiologist in a private clinic in Rouen while maintaining his active involvement in the evolution and development of the R-One platform.