Printable IVDs put diagnostics in a patient's pocket
John Brosky reports on a credit card size tester that enables self-monitoring of blood glucose
Using electrically conductive, ink-like materials, a Swedish consortium has created a fully functional prototype for a self-monitoring blood glucose (SMBG) test that could be disruptive for in vitro diagnostics.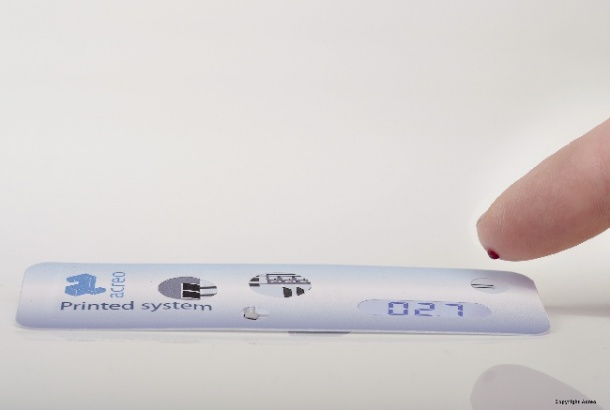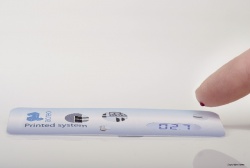 The low-cost test was developed by a consortium funded by the Swedish government, which includes the research institute Acreo Swedish ICT in collaboration with the Biosensors and Bioelectronics centre at Linköping University.
The printed biosensor on the card reacts with a sample, in this case a drop of blood, and the reaction is converted to an electronic signal that can be processed with the resulting measurement displayed.
The next generation, the developers explained, will be fully printable, except for a tiny silicon chip.
Göran Gustafsson, vice president for Printed Electronics at Acreo said the institute is now looking for commercial partners to take this platform to the market. 'We hope to find companies with specific requirements for diagnostics in medicine but also in processing, food handling and defence,' he said.
Assuming mass production, a biosensor card could be delivered for 50 centimes (€0.48) each, according to Anthony Turner, who heads the Biosensors group in Linköping. 'We have seen rapid advances in printed electronics to make more flexible, low-cost portable and wearable electronic devices, while in parallel there has been a great advance in printing various biological materials.'
The Swedish consortium has converged these two trends in a single-use, disposable platform with all the features of a complete analytical instrument that can be produced on a large-scale, 'and by that we mean billions of units,' he explained.
While the proof-of-concept demonstration of the Swedish biosensor platform used glucose, the SMBG market is not likely to be an entry point for the device, Anthony Turner added. 'We are looking beyond diabetes at literally hundreds of applications. There are all the disease areas the western world is preoccupied with, such as cancer, heart disease, or infectious disease, as well as health management issues, such as elderly care and aging. Then there is the maintenance of well-being where we try not to get sick in the first place,' he said, adding that the platform can be applied to individual food safety checks for people with allergies, or for environmental conditions, such as water quality.
He sees this yet-unnamed, credit card size, low-cost, all-in-one diagnostic instrument as a game changer, empowering consumers and patients to take charge of their own health concerns. 'In the future it may seem crazy that people would take a half day just for a blood work-up, and then wait three days for results that give a 55% accurate diagnosis. Digital health will bring a paradigm change, not just in diagnostics but in the way we maintain our health.
'We'll see the end of centralised facilities as a lot of healthcare routine will be done through much more mobile health resources that deliver the information we need about our health at our convenience, at home, in our office…' Wherever.