Pilot projects
by Anja Behringer
A report from the 2nd Telemedicine Forum, organised by Tele Medical Systems AG (TMS).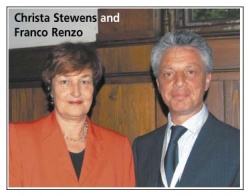 Germany - Telemonitoring complements, but does not replace traditional, time and staff intensive home visits or regular visits to surgeries. Clearly structured, reproducible communication between doctor and patient, based on modern technology, initially requires the development of appropriate software for different disease-management programmes (DMP). 'This scientific approach then has to be applied,' said Professor Karl Lauterbach MD, director of the Institute for Health Economics and Clinical Epidemiology at the University of Cologne. Franco Renzo, President of TMS (based in Switzerland), described the way in which the firm's system can address and combine subjects such as health passports, DMP and telemedicine: '...as long as the interests of different groups can actually be reduced to a common denominator.'

Indeed, controversy developed from the start, at the Regensberg forum. One bone of contention was electronic patient files: Whereas Roland Sing, head of the board at AOK Baden-Wurttemberg and member of the board at Initiative D 21, stressed the importance of introducing new IT-systems, stating: 'Patients should never look at their files without supervision, because they may find some rather unpleasant things,' whereupon, Karl Lauterbach vehemently demanded: 'They must!'

Christa Stewens, Bavarian Minister for Employment and Social Affairs, Families and Women's Issues, spoke of Ingolstadt, a pilot project in which patients are the 'master of their data' - aimed to reduce mistrust. 'One develops a different approach to one's health,' the minister said, before describing another 24 current projects on the teleconsultation, teleradiology, telemonitoring and teletherapy as well as electronic treatments. Christa Stewens then introduced the model project Donaustauf, which involves telemonitoring for 900 patients.

Professor Michael Pfeifer MD, Medical Director of the Hospital Donaustauf, near Regensburg, described the first practical experiences with telemedicine and telemonitoring for patients with chronic pulmonary disease. This involved 45 patients suffering chronic obstructive pulmonary disease (COPD) and bronchial asthma. It transpired that regular transmission of lung function readings to the treatment centre can be carried out by patients and that they were happy to do this. These first positive experiences led to the model project run by AOK Bayern, which will see telemedical monitoring of 900 patients with COPD and asthma.

The first phase of the project aims to prove that long-term telemedical supervision is possible and is accepted by patients, and to improve and stabilise pulmonary disease, defined by the number of hospital admissions and exacerbations of the disease. The project also aims to support not only patients but also the doctors treating them, who will be regularly informed about test results and clinical data - or who can actively demand these data - with the help of applied telemedical procedures.

The Telemedicinecentre (TMZ) is staffed 24/7, so that patients can contact someone at any time with questions about the system or their illnesses. Active telephone contact with the patient, through the TMZ, is initiated if there has been no contact and no transmission of results for over three days, or when results on lung function look critical. Based on the results of the Asthma-Knowledge-Test for asthmatics and the modified Asthma-Knowledge-Test for COPD patients, knowledge has increased among asthmatics about the way they are dealing with their illness and how they cope with emergency situations. During the trial, there has also been a general improvement in knowledge about the illness among patients with COPD. As there has been no specific training for patients, this must be viewed as a concomitant effect of learning.

So far there has been no evaluation of the medical progress of the illnesses, such as exacerbation rate, number of emergency and hospital treatments and use of drugs. The primary objective of the first phase of the model project was to see if it was feasible and acceptable to carry out a care programme based on telemedicine for patients with chronic obstructive pulmonary diseases. In other projects, the efficiency of the programme with regards to clinical parameters such as the reduction of the exacerbation rate and hospital admittance is being examined. These insights should indicate for which patients a monitoring programme based on telemedicine is sensible and effective.

Everybody agrees on the general medical and social progress through telematics. However, detailed, legal points will continue to remain the subject of much discussion. Dr Manfred Zipperer, Head of the Action Forum Telematics in Healthcare, pointed out: 'It is to be seen how the existing projects are to be integrated into the organisational and financial framework.' In view of the pressure put on the system by the law, he stressed the importance of '...at least complying with the basic legal requirements'.