Outsourcing IT Technology Management: Winning Opportunity for Hospitals and Vendors
By Cynthia E. Keen
As healthcare IT becomes increasing technologically complex, well-designed partnerships with vendors and service companies may be the most efficient and cost-effective means by which to operate, Dr Thomas Geisinger, Global Manager for e-Health Integration of Agfa Healthcare in Mortsel, Belgium, told attendees at the Hospital Management Symposium.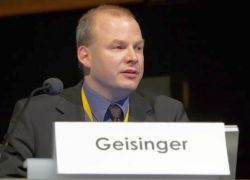 The advantage of outsourcing IT services to an independent company tend to increase as hospitals with multiple healthcare facilities, and regions of hospitals consolidate their services, Dr Geisinger adds.
The requirements for individual hospitals in a geographic region to independently manage their HIS/RIS/PACS and permanent data archive may be easily manageable for the hospital's internal IT professional staff. Interconnectivity among the hospitals, a shared data archive, and changing network requirements not only may be beyond the scope of the staff, but the process of managing a regional network may require a "portfolio" of dedicated and part-time experts.
Questions also arise with respect to "turf" ownership and responsibilities. Politics of ownership and payment responsibilities can create internal problems that outsourcing avoids, Dr Geisinger pointed out.
Dr Geisinger described the complex investigation and strategic operational planning issues and concerns that a hospital must make in selecting and negotiating with a vendor service provider. "The process is not easy or fast. A management framework must be defined," he said.
More on the subject:
More on companies: