"Outlook for the future on healthcare in Europe"
During the course of the EU Council Presidency, Germany is setting a special focus on the health policy with the priorities prevention, innovation and access to health services. The latter was the first topic discussed by European experts from politics, research and health insurances during the conference "The social dimension in the Internal Market — Outlook for the future of healthcare in Europe", opened by German Health Minister Ulla Schmidt.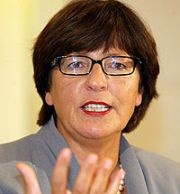 "Within the European Union, all countries facing similar problems with the social supply. The demographic change and the increasing life-expectancy are problems affecting the whole EU. A solidarity over the boundaries is the only way to find a solution for these problems." With these words, German health minister Ulla Schmidt opened the conference "The social dimension in the Internal Market – Outlook for the future of healthcare in Europe", that took place on 15.-16. January in Potsdam, Germany.
The aim of the conference was to highlight the potential of health care within the frame of the Lisbon Strategy for growth and employment. The experts discussed the question what sort of interaction between competition and regulation is necessary in order to tap the potentials for growth and employment in an optimal way while promoting social cohesion. Another point was the consideration of the competencies of the Member States and the cooperation at European level in this context. A successful example of a cross-border health care provision project was given by Prof. Dr. Jacques Scheres, from the University Hospital of Maastricht and Coordinator of the Euregio Meuse-Rhine, a cross-border initiative from the European Commission.
Of course, not all questions could be answered at the end of the two days, but as Dr Schröder, German State Secretary comments: "The conference was a successful beginning of the discussion and pointed out the difficulty of some questions like the assurance of a fair competition and equal quality standards on a European level which are the basis for any kind of cooperation."
For this and other questions, there is a good chance that a binding answer will be found and that discussions which are promoted during the German EU Council Presidency will not end up in a bottom drawer as soon as the six month of Presidency are over: Germany is the first trio Presidency, acting in close cooperation with Portugal and Slovenia, which will hold the subsequent Presidencies. This trio will be closely coordinating the work and will also take up the baton handed over by the Finnish Presidency.