Article • Vest airway clearance system
Oscillation system moves mucus
The Vest Airway Clearance System (which is technique independent and treats all lobes of the lungs simultaneously) helps to mobilise pulmonary secretion via high-frequency chest wall oscillation.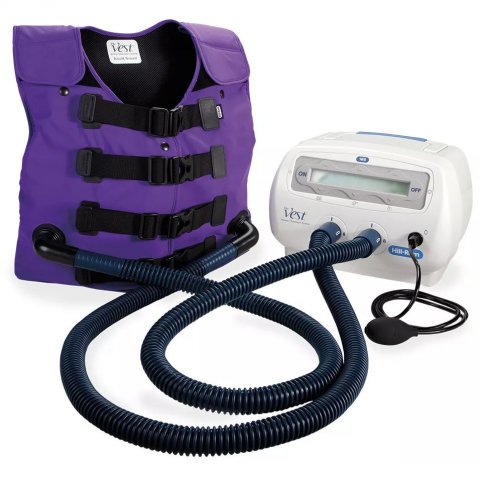 Used in the USA for several years, over 80 clinical trials have demonstrated the effectiveness of high-frequency chest wall oscillation (HFCWO) therapy for patients with a variety of conditions. In addition, several peer-reviewed studies have demonstrated the Vest system's ability to clear mucus more effectively and help maintain or improve pulmonary function better than conventional chest physiotherapy.
Connected by tubes to an air-pulse generator, the vest is rapidly inflated and deflated to compress and release the chest wall. During this HFCWO the rapid chest movement mimics 'mini-coughs', which dislodge and thin mucus, moving it along to the central airways.
To date, the system has been prescribed for respiratory complications associated with over 350 diseases and conditions, e.g. secretion clearance dysfunction associated with cystic fibrosis, muscular dystrophy, chronic obstructive pulmonary disease, and cerebral palsy. The maker also reports that It also has been successfully used to maintain healthy lung function in post-operative, ICU, and post lung transplant patients.
The manufacturer adds that, in clinical outcomes studies, the system is associated with improved secretion clearance; stabilised or improved pulmonary functions; improved exercise tolerance; reduced incidence of pneumonia and related hospitalisations; higher patient satisfaction and therapy adherence, and reduced healthcare costs.
Details: https://www.hillrom.com/