OR light with integrated camera
Dräger Medical launched new space-saving OR light.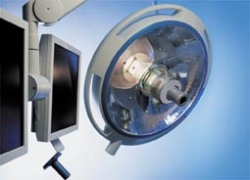 Launching its space-saving Stella OR light with an integrated camera1 during this year's meeting of the European Society of Anaesthesiology (ESA), Dräger Medical explained: 'There is no need for an additional extension arm to suspend an external camera. The camera module is flexible and can be inter-exchanged within other operating rooms. In the future, existing Stella Medview OR lights can be retro-fitted to accommodate this module.'
The integrated auto-focus camera remains pinpointed on the operating field, and can be controlled by an infrared remote control, or from a control panel located on the wall in the non-sterile area.
To advance process optimisation in the operating theatre, during a procedure the work of both surgeon and anaesthesiologist needs enhancement. An integrated camera that can transmit its video signal directly to the anaesthesiologist's haemodynamic monitor provides such support, the company points out: 'If the monitor is a Kappa XLT, the video image from the camera is directly accessible at the workplace. In addition to seeing the patient's traditional vital signs, the anaesthesiologist can also view images from the camera as picture-in-picture.'

Those wishing to observe surgery, e.g. for learning purposes, can do so via a monitor also attached to the central axis. The one-chip camera is based on a Sony module and transmits still and moving images live - and in colour.

* The product is not available in all countries. Release in Europe is imminent.