Mobile computer device for instant access to medical records
At this year's Medica Panasonic presented the world's first* mobile clinical assistant (MCA) device using the Intel® Atom™ processor, further strengthening the company's position in the healthcare market. Based on the Intel® mobile clinical assistant reference platform, the new CF-H1 MCA is designed specifically for clinicians.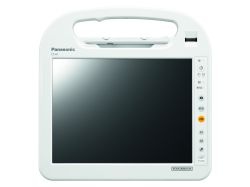 The CF-H1 is a lightweight, water-resistant, shock and drop-tolerant and easily disinfected mobile computing device that meets the highest demands for mobility and networking within clinical environments. It allows doctors and nursing staff to benefit from instant access to medical records at the point of care, accurate documentation on patient conditions and medication, and enables greater efficiency of clinical processes.
Chris Bye, Managing Director, Panasonic Computer Products Europe (PCPE), said, "We are delighted to bring this next generation MCA to market. It's a significant step forward for Panasonic which puts us at the forefront of healthcare mobile IT technology. We have spent a number of years developing this product listening to the people that count and we are confident that it will completely transform the way clinicians operate today and in the future."
Using Panasonic's advanced battery technology and a low-power Intel® Atom™ processor, the CF-H1 offers a category-leading six hours of battery life, complemented by dual hot-swappable batteries that deliver extended life, allowing non-stop computing while on the move virtually eliminating down time during shifts.
Commenting on the introduction on Panasonic's new MCA entrant into the healthcare market, Louis Burns, Vice President and General Manager, Intel's Digital Health Group, said, "Intel developed the MCA reference based on significant ethnographic research, workflow studies and conversations with healthcare professionals worldwide. By putting innovative technologies such as the Toughbook H1 MCA in the hands of clinicians, we are providing them with the tools they need to have the right information at the point of decision. Intel is committed to