MCC - Meierhofer's Healthcare IT-solution
At MEDICA 2007, the German Meierhofer AG focused their presentation on the scaleable IT-solution MCC. MCC is specially designed for the use in the healthcare sector as an all-in-one software solution.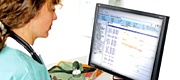 The MCC software records patient data and enables to access and share information between medical and nursing staff, as well as administrative personnel. The Meierhofer AG uses plug-in's to customize the software to the needs of each hospital.
MCC.cardiology and MCC.heart are new innovative solutions for the use in the heart-, thoracic- and vascular surgery. They provide the features of a workstation with fully integrated PACS-functionality and also a special solution for use in echocardiography. All available plug in's, like MCC.ris for the use in radiology department of MCC.op for the use in operating theatres, help to optimize the workflow thus saving valuable time and resources.
"With twenty years of experience and competence in the IT-sector we provide complete solutions for the use in healthcare," explains Matthias Meierhofer, founder and chairman of the Meierhofer AG. "MCC uses Microsoft's Sharepoint technology, that enhances communication and enables doctors to access a patient's data from any place to coordinate the therapy. With our technical innovations and individual concepts we will for sure be able to keep up to our competitors," Meierhofer conludes.