Managed services in patient data archiving
Storing, archiving and sharing patient information in an intelligent and controlled manner is one of the 'hot topics' for healthcare organisations.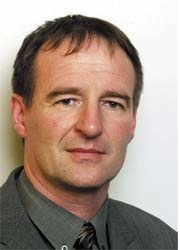 It can become a real nightmare, as the volume of information explodes, technology change rate increases, and the different stakeholders of patient care become more demanding.
Questions are immediately raised:
- Should I keep information in-house?
- How can I give ubiquitous access, but in a controlled way?
- How can I ensure legal requirements are fulfilled?
- What will be the costs in the long run?
Managed services can provide part of the answer.
The presentation will explain new architectures, often grid based, and delivery models for archiving and sharing patient data. It will detail the impacts of the model on IT, finance and the physician.
It also will provide practical examples from Europe and USA, highlighting the lessons learned. Finally, the presentation will identify how the model can smoothly integrate within global eHealth strategies.


CV: Following graduation Institut National Polytechnique Grenoble (INPG), Pierre-Yves Nectoux has benefited from over 20 years experience in telecommunications, IT and medical IT.
From 1985 to 1998, he was employed by firms such as IBM, Schneider Electric and Digital Equipment Corporation (now Hewlett Packard) in Product Management roles, and has overseen the design of several telecommunication products as well as developed partnerships with big European telecommunication players such as Ericsson, Nokia and Alcatel.
In 1999, he joined StorageTek – now SUN - Solution Business Group (SBG) as programme manager for telecom and e-commerce and, in particular, he developed hosted managed services. This role led him in to European eHealth initiatives.In 2003, he became responsible for Europe, the Middle East and Africa business for Kodak Healthcare IT Information Management solutions. Four years later, he joined Carestream Health and its eHealth Managed Service Business Unit to launch eMS offer in Europe. Now, as eHealth Managed Services Business Manager for Carestream Health, his role covers Europe, the Middle East and Africa.