Managed services in patient data archiving: The impact on IT, finance and physicians
By Cynthia E. Keen
Storing, archiving and sharing patient information in an intelligent and controlled manner is one of the 'hot topics' for healthcare organisations, was Pierre-Yves Nectoux' message at the Hospital Management Symposium. Mr Nectoux, business manager of e-Health Managed Services for Carestream Health in Europe, the Middle East and Africa, has been actively involved in EU e-Health initiatives in his professional career.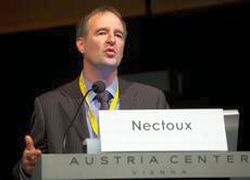 He described new grid based architectures and delivery models for archiving and data distribution as widespread hospitals and clinics link their data.

As the capabilities of technology increase, users' expectations increase, and the complexity of management significantly increases, he pointed out. Volume information explosions, accelerating technology change rate increases, and vital security issues can become a management and funding nightmare very rapidly. Managed services by a single responsible vendor, if initiated with great care, will shift these problems to expert professionals, enabling hospital executives to focus on what they do best – providing clinical services.

Nectoux provided practical examples from Europe and the USA, showing how the model can smoothly be integrated within gobal eHealth strategies.