Interview • Patient portal
'It is happening now!'
Two years ago European Hospital spoke with Hans Vandewyngaerde, President for Europe, the Middle East and Africa (EMEA) for Agfa HealthCare, about a sweeping vision the company called 'Images without Boundaries'. The idea was to build a capability to share images from anywhere to anyone involved in a patient's care.
Interview: John Brosky
'Imaging without boundaries is a success story,' Vandewyngaerde told us ahead of the 2014 European Congress for Radiology (ECR). 'The boundaries are gone. Agfa has launched with its customers large-scale programmes that fundamentally transform how they exchange images.
"The next step,' he added, 'is to integrate care. This is the logical step in the journey that has taken us from analogue to digital in radiology, then to sharing the digital images. Now there is a need to converge those images with relevant data that can really help advance a patient-cantered view of healthcare.'
ECR 2016 will see the introduction of the Agfa Healthcare Portal, a suite of capabilities that pulls data from any standards-based source, integrates it with imaging and makes it available to everyone involved in a patient's care in every format, from desk-top to laptop to hand-held mobile device.
Have you found Holy Grail of Health Care? For 15 years people have said this is the future. Why should we believe it this time?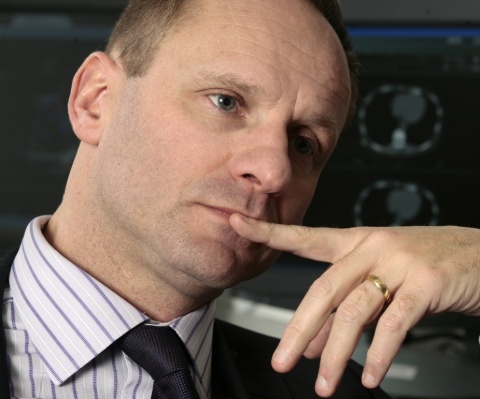 'Because we have done it! At ECR 2016 we'll show very specific use in cases where we have done this in the USA. We are now installing the Health Care Portal in Europe and have specific cases to show. We have a platform technology that is ready to be used, is already being used and is unique.
'Healthcare systems are increasingly ready. Countries are changing their governance to support the integrated care ecosystem, there's a movement to shift from volume-based reimbursement to outcome-based reimbursement, to adapt security, patient consent and authorisation.
'This is not happening because payers want to enable our technology. It's happening because there are persistent, powerful drivers. There is a strong belief on the part of payers, especially governmental payers, that this is going to help reduce costs and improve patient treatment. Cost is a big pressure point and while countries are moving at different speeds, and with different blueprints, it is something that's really happening – already in England, France, and Belgium.
'It's very important to see how powerfully patients are becoming part of the process and a driver for this change. Today, it's not very organised, varying greatly from diabetic patients to wound care management, or ophthalmology care. But clearly there is an expectation, it is going to grow stronger, and patients are already beginning to steer workflows according to what they expect.'
Let's take a step back. What is integrated care?
Patients need a portal where there is a lot more than images

Hans Vandewyngaerde
'Integrated Care is multi-agency, multi-disciplinary collaboration focused on meeting the medical, and also social needs of patients. It is highly patient-centric in a coordinated way. The vertical management of healthcare is now going transversal, across boundaries, across agencies, across disciplines. To do this you really need to look beyond the hospital, beyond acute care. Integrating care also mean involving social care data.
'Patients need a portal where there is a lot more than images, to also view data such as a medical history, a history of medications or radiation dose. A patient can log in to view the results of the exam. Immediately the patient may want to share images with the physician, may wish to schedule follow up appointments. All of this should be possible and right away, which brings us to a very basic use case calling for a portal. Which is what we will show at ECR 2016.
What did Agfa build with the Healthcare Portal suite?
The patient can upload images and documents

Hans Vandewyngaerde
'The portal was introduced less than a year ago and it has advanced rapidly since then. It is built on an open architecture that is compatible with existing operating systems. It is browser based, cloud-ready, easy to install and seamlessly integrates with any data or image source be it PACS, EMR or EHR, and much more beyond this, including social services.
'We recently announced Agfa has taken a significant stake in the company My Personal Health Record Express. We are continually building cases of use with them, advancing further every month in terms of viewing images, lab results, and clinical notes. There is secure messaging between a patient and a physician. The patient can upload images and documents. Physicians can have peer-to-peer communication with other providers. There is a great focus on integrating into mobile devices with iOS and Android.
'The Agfa Healthcare Portal goes beyond grabbing data and images by gives meaning to the data. This is very new and very unique. It is a very cool thing that distinguishes our portal, an architecture that builds in a semantic layer so that data from different sources can talk to other data in different semantic formats, from Chinese to English. We have some highly innovative intellectual property built around this, so that we can input data and images from different sources, add a meaning to this data, and configure the display through the portal.'
What will all this mean for radiologists?
'The radiology community has a crucial role to play because they have done this before and they know how to do it. They have worked through the digital transformation. They know what it takes to move from a departmental workflow to an integrated network. They are the best placed if they believe and accept that this is happening.
'The radiology community, if they play it right, can become – and should become – a centre of competence on image management, which is a crucial component of the digital convergence that underpins integrated care. The radiology community has the deepest and best experience with the management of images, to view or to share, with standardisation, archiving and, crucially, with the workflow around images.
'Radiologists at ECR should come to the Agfa stand where we can show relevant cases of use on what has already happened and where we think integrated care is going to go.'
ECR 2016, AGFA is here: Expo A, booth # 103
More on the subject:
More on companies: