Improving garments
Brenda Marsh, Editor-in-Chief of European Hospital
Now there are even garments for hospital visitors - a good thing, in view of MRSA and other pathogens.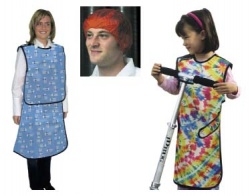 Hospital expenditure on clothing is high - whether for protective or patients' wear, washables or disposables. The physical criteria set for special clothing is also high. Will a fabric definitely hold up to an onslaught of germs, fluids, radiation, or whatever the hazards to be faced? Will it also withstand vigorous laundering, or could it really be cheap enough to discard after single use? Naturally these have long been the main considerations in the production and use of hospital garments. If wearer comfort was not been a primary consideration, cheery colouring and design certainly were not. In radiology alone, men and women have suffered considerably from this, with bodies drooping and backs aching due to the weight of lead aprons hung straight from the shoulders. The times the are a-changing...
Like all technologies, fabric creation has moved on, and although maintaining full protection, clothing has become lighter, easier to fashion - and to colour. Such up-to-the-minute items are on show at Medica. Among the X-ray protective clothing exhibitors look out for Medical Index GmbH, of Bad Rappenau, Germany. The firm produces well-designed garments that have four, instead of one stiff inflexible layer. 'We make high demands on quality and durability. Impregnation is not enough,' the firm explained. 'We use a high quality taffeta with high tensile strength, which is treated twice: a polyurethane coating inside and a silicone or fluorocarbon impregnation outside for easy cleaning. We sew with a 100% Polyester-Multifilamenttwist, usually used in the shoe and furniture industries. A long connection is guaranteed, because of high wear and tear resistance and its well-balanced expansion characteristics. Our velcro fastenings are best known for their high tensile and shear strength.' The firm analysed their customers' activities and needs to arrive at suitable styles to suit their work, comfort and safety against X-ray scattering, which resulted in designs of conventional aprons as well as coats and skirts that certainly prevent weight strain on shoulders. To protect the thyroid area - one of the most X-ray sensitive body areas - the firm's thyroid collar is also well designed, and again pretty and comfortable, being made of metallic-lead, taffeta tissue with polyurethane coating and silicone or fluorocarbon impregnation.
Medical Index also produces delightful protection garments for patients from 3 years old upward, again in such colourful designs that certainly encourage their use.
To alleviate the weight of X-ray protection aprons, the US-based firm Burkhart Roentgen International Inc markets a 'super cinch belt' that clasps around the wearers waist, and also makes X-ray wear (handsomely named Zeus, Venus, Apollo, etc.) which are well-fitting due to shaped, weight-relieving, criss-cross backs and adjustable straps. I particularly like the deep wine colour produced for males, and pretty shades for women, and found Burkhart's protective glasses equally well-designed, with frames constructed in extremely durable, flexible, nylon, yet promising minimal potential breakage. The moulded wrap provides a comfortable shape, and has a full saddle bridge for even distribution over the nose, although peripheral vision is maintained with leaded glass side shields. Adjustable nose pads are also available.
Another manufacturer has designed neat laboratory coats with soft knitted collar and cuffs that avoid rubbing the skin during repeated working movements. The UK firm Pal International includes in their products a pleasanter red-coloured mob cap, smart 'deluxe' overshoes, and even a beard mask, as well as disposable hospital visitors kits - an increasingly important offering, given the omnipresence of MRSI and other pathogens in all our hospitals today.