From analogue to digital
Thanks to the convertion from analogue to digital imaging, Kodak Health Group reported a considerable success in Europe.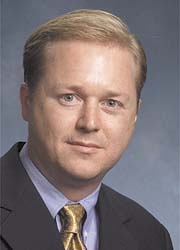 Kodak Health Group, Eastman Kodak's second-biggest business, brought in US $2.7 billion in 2004 (19.9% of Kodak's total revenue), and has reported considerable success in Europe in 2005. In a European Hospital interview, Kevin Hobert, President of Kodak Health Group and Senior Vice President at Eastman Kodak Company, discussed some of the reasons behind the firm's success, and particularly its solutions for transitions from analogue to digital imaging, as well as for workflow and management. These involve the development of integrated platforms.
Kevin Hobert: Our entire solution set consists of digital products and our customers are imaging customers. When they convert to digital, they must make their film-based imaging digital, so we provide computer radiography (CR), digital radiography (DR), PACS products, radiology information systems (RIS), archive solutions (customers often need an archive for more than just images), and solutions for sharing images. We also provide computer-aided detection and decision support systems, so that systems can be used in an integrated way, as the backbone of quality images from radiology or mammography departments.
Digital X-ray is an example of a platform within the solution set. We have developed outstanding imaging, image processing, workflow and user interface and can apply this to all the various fields of CR products and all different applications, as well as all the DR product line. So the integrated platform means, for example, that if getting a certain view of a patient in another Kodak digital radiography room is a problem, you can shoot that view using CR, drop it in the reader and it will show up automatically on the DR-System. Our PACS and RIS are integrated platforms, so you can share information and look at radiology data as you view the images. For radiologists, our 3-D tools within our PACS are fully integrated into all our PACS review stations, which provides very smooth workflow.
What about access to an electronic patient record (EPR)?
KH: You can access data from the Hospital Information System (HIS) through the integrated RIS/PACS. But one of the keys to an electronic patient record (EPR) is to have common data storage in the right data storage. That's our focus: our information management solution includes archive products. The software stores images and any other hospital information, and defines intelligent rules for that storage, providing a common storage area, which is also cost-effective. Customers have one type of service to support one kind of archive media. In that architecture, support is easier, the cost per gigabyte of storage is much lower and it gives all the data in an easily accessible place, so it's available for any EPR.
Our archive product has great strength. We can archive images and information from any hospital department, and we have web-viewers and diagnostic workstations, and so on, that can be installed in any hospital department, and secure e-mail to share data with referring locations. The information management product can act as an archive for various data within a healthcare group. It simulates their archives, making that information accessible to people with access rights.
We've scaled our solutions to work in the imaging centre, or small hospital, teaching hospital or community-based healthcare centre. We've had considerable success in Europe in community-based projects, such as the National Services Scotland (NSS), where we are providing a common archive. We have also just won the contract for BUPA facilities across the UK. Another huge project is to store all medical data and images for northern Finland, and, in France, we've networked all 26 Assistance Public (APSP) hospitals around Paris with common storage and common HIS, PACS and RIS.
So, rather than sell a PACS to one hospital, does Kodak intend to focus more on hospital groups?
KH: Our strategy is not to sell a PACS solution to a hospital but to sell a solution for digital transformation.

Just like Fuji and Agfa?
KH: Yes, and others - probably GE and Siemens and so on. There are a few differences, but these depend on which firm you mention. We have focused on solutions for digital transformation, so we really have all the pieces: CR and DR to transform X-ray imaging, and PACS, integrated RIS, information management solutions, all our own products and all integrated. We made acquisitions and for the last few years have focused on developing those platforms, integrating our products and building those platforms. We also bring in professional services - such as Lean Thinking, Six Sigma - to help customers gain the most out of the implementations. What matters to us is the result our customers get after implementation. Part of our differentiation is that we provide our full solution set in an integrated way, and are focused. In imaging we provide a digital X-ray; that's what you need when you're going digital, not buying a new MRI or CT - we're not investing in multi-slice CT, or high-field MR, or integrated PET/CT. We focus on digital X-ray as a component of this overall solution set, so we develop best-in-class products, for customers with whom we have a relationship through selling films.
Other companies sell modality equipment, with five million dollar deals for capital equipment. Then? Efficient implementation and they're done. We sell film daily, so develop more relationships. And with IT that's what customers want – someone to be a partner.
Some customers do not want a long drawn out implementation that really optimises their workflow. If it's a small hospital, or small imaging centre, they might want more than an off-the-shelf solution. You simply come in, implement it, and train them. However, with university hospitals and integrated healthcare systems there is far more consultation, much more workflow re-engineering and implementation that is more tailored to their mix of examinations, workflow, management system and way of working. These are skills we had to develop. Now, our global team, solely for implementations, carry out standard work, have common practices for project management, and know how to define customer goals and how to ensure they achieve them.
What about hospitals with different equipment from yours?
KH: Many years ago there were, for example, no MRI or CT scanners that produced digital images and needed printers. We were the first to produce digital printers for medical use, and more of ours are installed worldwide than from any other company, and we have sites dedicated to carrying out those integrations. Our database also holds all our customers' activity requirements, their different equipment, what we've already connected to and validated, as well as a well-defined process for that validation. We've done it with digital printers for years, and are doing it with our PACS. It's one of our great strengths - and we go beyond that: We can tie information systems from other hospital departments in to our common archive.