Firemen to treat emergency cardiac cases
UK - Fire-fighters are being trained to assess possible cardiac patients in emergencies, and to use automatic defibrillators and oxygen therapy.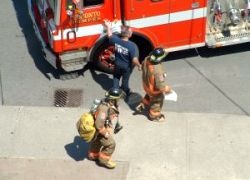 Aiming to enhance patient care in its area, this six-month pilot co-responders scheme is being monitored by Gloucestershire County Council's Fire and Rescue Service and the county's Ambulance Service NHS Trust.

The town chosen for the pilot study has a fire station, but ambulance services are some distance away. In a possible cardiac emergency callout, the trained firemen drive the fire service's 4x4 vehicles, rather than fire-fighting vehicles.