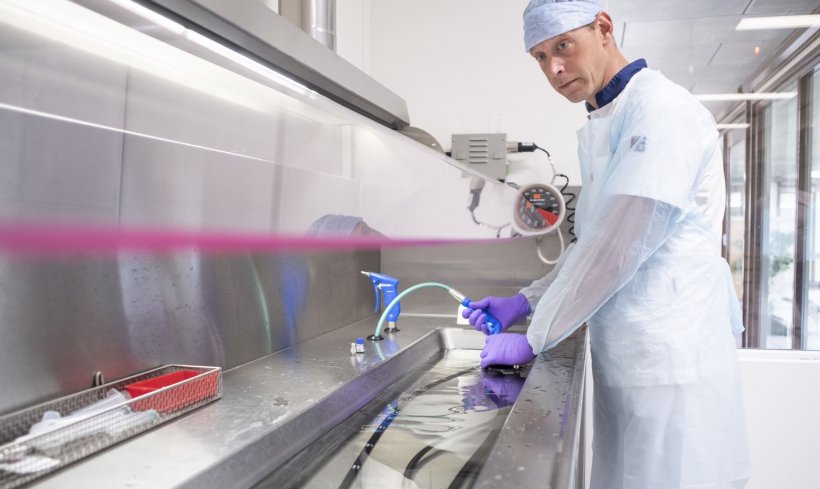 Image source: Pentax Medical
Article • Preventing endoscope contamination
Ways to enhance hygiene in endoscopy
Stringent endoscope cleaning between procedures is vital. However, with so many steps in the process – plus high demand for rapid turnaround of endoscopes – contamination and biofilm build-up are still being reported. Endoscope hygiene and cleaning protocols were central to an online event organised by Pentax Medical, with important contributions from leading specialists.
Report: Mark Nicholls
The event examined challenges with endoscope use – particularly in terms of reprocessing– and solutions that could help improve patient health safety and outcomes.
Issues discussed in effective endoscope reprocessing included the human factor, the consequences of contamination for a hospital and patients, the importance of staff training and adherence to guidelines. The Endoscopic Retrograde Cholangio-Pancreatography (ERCP) procedure is an established approach in helping clinicians evaluate disease and provide treatment, however it must be ensured that endoscopes are adequately cleaned, disinfected and dried between patients.
Drying is critical
Steps include cleaning at the bedside immediately after an examination, manual cleaning with detergent, brushing and flushing of channels followed by high-level disinfection or chemical sterilisation plus drying and storage. Yet, despite multi-step cleaning reprocessing, often the critical element of drying does not receive the attention it merits.
It's very important to completely clean, dry and store endoscopes, because they are reused in patients

Didier Lepelletier
Professor Didier Lepelletier heads the Department of Bacteriology-Virology and Hospital Hygiene at the 3,000-bed University Hospital of Nantes, in France. There, more than 20,000 endoscopies are performed annually. Lepelletier explained that biofilm (which includes bacteria) forming in medical devices can result in nosocomial infection, which can be associated with increased patient morbidity and additional healthcare costs. 'The drying step is very important in reducing formation of biofilm – a slimy film that forms when bacteria adhere to surfaces in wet environments and start anchoring to a variety of surfaces 'he said, 'but it's very important to completely clean, dry and store endoscopes, because they are reused in patients. With a high turnover in the clinical units that use flexible endoscopes, we must be careful with the reprocessing cleaning.' At his hospital, seven auxiliary nurses work in the reprocessing centre from 7am-8pm, with 120 endoscopes disinfected daily. It also performs more than 220 microbiologic samples a year to assess microbiological contamination of endoscopes.
Pentax Medical have collaborated with numerous healthcare institutions to better understand and improve reprocessing efficacy and hygiene outcomes. Following this, Pentax Medical has taken an active role in developing devices to allow for improved cleaning as well as endoscope drying and storage. The DEC™ Video Duodenoscope ED34-i10T2 for example, with the Disposable Elevator Cap (DEC™), results from these collaborations, along with the PlasmaTyphoon and PlasmaBag system for the complete drying and active storage of endoscopes.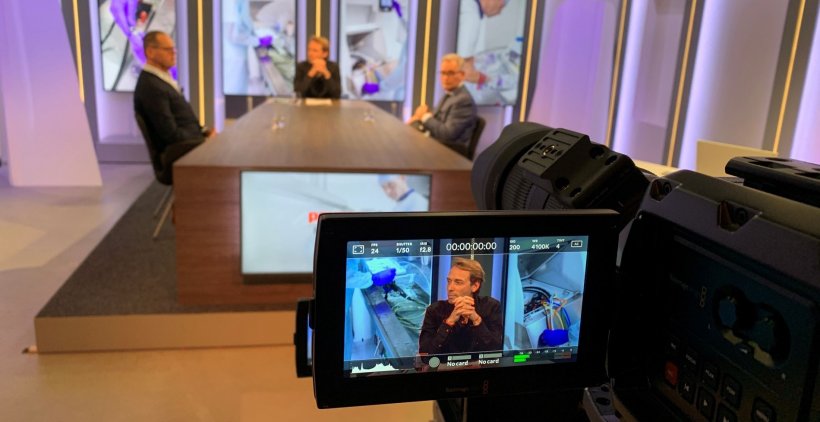 Prof. Lepelletier underlined the importance of drying to reduce biofilm formation, and discussed the use of Pentax Medical's PlasmaTyphoon - a device for ultra-fast drying of endoscope channels – in his practice. This significantly reduces overall endoscope reprocessing times, guaranteeing a dry endoscope in less than five minutes whilst, for storage, the PlasmaBag maintains the clean and reprocessed state of the endoscope.1 'Using these devices can help minimise the risk of contamination with bacteria through highly-effective drying mechanisms for the endoscopic channels and reduce the endoscope reprocessing cycle times.' Overall, this provides an improved endoscope availability.
The PlasmaTyphoon and PlasmaBag system were developed in France by PlasmaBiotics, a company which Hoya Group-Pentax Medical has since acquired a majority stake in. Daniel Vinteler, the CEO of PlasmaBiotics stated, 'drying is often neglected but it greatly helps to minimize the risk of infection and also helps to prevent the creation of biofilm'. He also explained how the PlasmaTyphoon has a laminar flow which eliminates water from channels, followed by turbulent heated flow of up to 200km/h velocity for the drying. Meanwhile, the PlasmaBag can store the dry endoscopes for up to 31 days1,2 by insufflating plasma-containing ozone molecules into the storage bag, ensuring the disinfected state is maintained.1
Marjon de Pater-Godthelp, Esgena President and Head Nurse at the Amsterdam AMC (Academic Medical Centre) Department of Gastroenterology Endoscopy, stressed that 'endoscopes are complex devices and heavily contaminated with body fluid, blood and microorganisms after use. There are 130 re-processing steps and the recommended manual cleaning time is 25 minutes, although in daily practice it may only take six minutes.'
Reprocessing is complex with 130 different stages; it is much more than just a flush and a brush

Paul Caesar
The human factor in the process must be considered, but often there is a lack of understanding of manufacturer's instructions for reprocessing; not enough staff for the workload; inadequate training, and time pressures for rapid endoscope turnaround. As a result, the risk that cleaned endoscopes remain contaminated and result in infections spreading from one patient to another can be underestimated. A solution to overcome these challenges could be to ensure an adequate number of staff, enough time is allocated for the reprocessing steps and essential training given to those involved in the reprocessing process.
Marco J Bruno, Professor of Gastrointestinal Oncology and Director of Endoscopy in the Department of Gastroenterology and Hepatology at the Erasmus Medical Centre, in Rotterdam, discussed 'the burden of an outbreak due to contaminated endoscopes', drawing on the experiences of an outbreak at his centre in 2012. Globally, the reported incidence of infectious ERCP complications of 2-4% is an underestimation, he said, and that endoscopic contamination and patient infections should be a major concern because, worldwide, multiple patients have become seriously ill, or even died.3
'Reprocessing is complex with 130 different stages; it is much more than just a flush and a brush,' emphasised Pentax Medical Europe's Reprocessing and Infection Control Leader Paul Caesar. 'The answer lies in education and training,' he said, highlighting the Pentax Medical tailored training program to help minimise infection risk.
Also during the event, Gilles Sauvanaud, Director of Operations and Services at Pentax Medical France, compared reusable endoscopes to disposable endoscopic components, and Monique Dalton, Product Marketing Segment Leader ERCP and Hygiene Solutions at Pentax Medical Europe, discussed current and future innovations for infection prevention.
Profiles:
Marjon de Pater-Godthelp is the President of the European Society Gastroenterology and Endoscopy Nurses and Associates. Marjon is currently working at the Amsterdam UMC location AMC (Academic Medical Centre) in the department of Gastroenterology Endoscopy.
Marco J. Bruno is professor of Gastrointestinal Oncology and Director of Endoscopy in the Department of Gastroenterology and Hepatology at the Erasmus Medical Centre, in Rotterdam. He received his medical training in the Department of Gastroenterology and Hepatology at the Academic Medical Centre in Amsterdam.
Professor Didier Lepelletier is Professor and Head of the Department of Bacteriology-Virology and Hospital Hygiene at Nantes University Hospital, and a lecturer and researcher at the university's faculty of medicine.
Dr. Daniel Vinteler is CEO and President of PlasmaBiotics France. After more than 20 years in the high-tech environments of the aerospace industry and computational fluid dynamics, he founded the PlasmaBiotics company in 2011. Seven years later, Hoya Group-Pentax Medical acquired a majority stake in the company.
References:
1 Evaluation of the efficacy of a drying unit for internal channels of endoscopes according to NF S98-030- Test Report by Biotech-Germande February 2015
2 Evaluation of the ability of a storage system (plasmabiotics) to maintain the microbiological quality of heat sensitive endoscope. Report by Biotech-Germande April 2017.
3 Kovaleva et al. 2013; Transmission of Infection by Flexible Gastrointestinal Endoscopy and Bronchoscopy. Clinical microbiology reviews , 26 (2), 231-254. https://doi.org/10.1128/CMR.00085-12: 241
Source: Pentax Medical