Surgical imaging
FDA clearance for ZeroWire Mobile battery-powered display stand
NDS announced that it has received FDA 510(k) clearance for its new ZeroWire Mobile battery-powered display stand solution.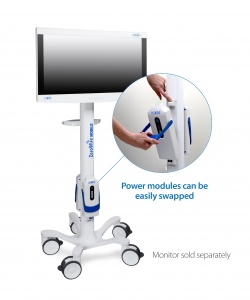 Designed to enable the untethered clinical mobility of endoscopy displays, ZeroWire Mobile eliminates the display power cord, which combined with ZeroWire wireless video, enables a streamlined, easy-to-use mobile imaging solution that can be moved efficiently within the procedure room, and quickly relocated from room to room throughout the facility.
ZeroWire Mobile is designed as an accessory and engineered to support two cleanable battery power modules. With both power modules fully charged, the display stand can power an NDS 32" monitor for up to five hours of continuous operation. Colored LED light bars display battery strength and indicate when a power module requires re-charging. A simple "hot-swap" process allows the user to swap power modules immediately from a wall-mounted charging system.
"NDS is focused solely on the medical industry, and takes great pride in delivering innovative products that can help increase efficiency for the clinical staff," said Darko Spoljaric, Vice President of Global Marketing at NDS. "ZeroWire Mobile is designed specifically for the endoscopic environment, with a view to providing a medical-grade, easy-to-use, highly mobile imaging solution."
A core component of a patent-pending solution ideal for endoscopy applications where a secondary monitor is required with the added benefit of easy maneuverability, ZeroWire Mobile can help reduce clutter and minimize tripping hazards for the staff in the OR. By eliminating the need to clean and maintain cables, room turnaround may be streamlined.
Learn more about the new ZeroWire Mobile display stand by visiting www.ndssi.com/mobile.

Source: NDS