Digital Radiography
Fast Forward to DR
Agfa HealthCare accelerates the shift to digital x-ray by enabling any radiology clinic to convert at its own speed and budget with innovative and market-leading solutions.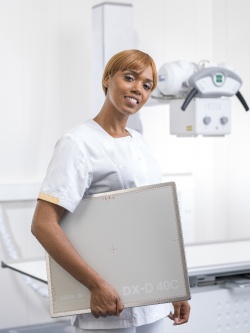 "There is no hurdle anymore for any customer to move from analog x-ray to digital radiography," said Jan Leeuws the Business Unit Manager for Digital Radiography (DR) at Agfa HealthCare. Under an umbrella program called 'Fast Forward,' Agfa HealthCare is bundling a portfolio of products to be presented at RSNA 2014 that enables radiology departments to affordably advance on a customized path that leads to the overwhelming benefits of DR for higher quality images at a significantly lower dose.
"The move to DR brings as many benefits to the healthcare provider as it does to patients by eliminating the dark room with all its chemistry and improving workflow," said Leeuws. "There is still a lot of ground to cover," he said, adding that despite the now clear advantages of DR, there remain a substantial number of x-ray exposures being made with direct analog or hybrid digitized computed radiography (CR) technologies. As a result, the achievements in reducing dose in radiography are still at a very early stage.
With a worldwide installed base of close to 50,000 digital radiography systems, Agfa HealthCare is removing the last barriers to conversion to DR through the Fast Forward program so that all healthcare facilities, regardless of size or budget, can flexibly and cost-effectively upgrade film and CR operations. "It is a combination of highly sensitive detector panels with industry-leading processing power that allows us to reduce dose up to 60% over conventional plates," said Leeuws.
The stand-out in the portfolio is the newest introduction from Agfa HealthCare, the DX-D 40 auto-trigger detector that will be introduced at RSNA. "We call it instant DR," states Leeuws, "because installation is quick, easy and non-invasive."
"It took us less than a half hour to set up demonstrations at different customer sites in Italy, France, Spain, the United Kingdom or the United States, and when we we're set to leave, invariably the radiologists would ask us to stay. They didn't want us taking away the demonstration panel," he said.
The demonstration also convinced users quickly of the many advantages of the digital format. Beyond improved image quality and lower dose, these include reduced examination time, immediate verification of patient positioning, or improved accuracy of patient identification.
The DX-D 40 allows a radiology group to continue using their existing equipment. An automatic exposure detection (AED) sensor on the patient table activates the detector within a fraction of a millisecond for a true digital image acquisition.
Requiring no cable connections, installation of the DX-D 40 means the detector integrates seamlessly with virtually any X-ray system. The detector sends the acquired image either to a dedicated laptop computer or a MUSICA image acquisition workstation.
Connecting to Agfa HealthCare's next generation Multi-Scale Image Contrast Amplification (MUSICA) image processing, allows radiology centers to instantly reap the benefits of the digital format. The MUSICA combination with the DX-D 40 provides "no-excuses" image quality with greatly increased detail, providing more diagnostic information from low dose images with a balanced presentation for visualization of subtle features.
The next generation MUSICA presented by Agfa HealthCare last year at RSNA is exam- and body part-independent, thereby providing consistently a very high diagnostic quality image. "Installing improved technological capabilities is just one element of progress for a radiology group," said Leeuws. "It is not realistic to simply present staff with dose-lowering capabilities and expect them to immediately adopt a lower-dose approach. A core part of achieving dose reduction lies in the education and re-training of staff."
"With DR the staff sees that every image they take is perfect, certainly better than ever before, but there is a risk of patient dose creeping up," he said. "Here education is needed, to show that with these DR panels, they have such a wide dynamic range that actually allows them to further lower dose from previous exposure levels. Then to show them that on top of this, they can apply Agfa HealthCare's image processing to bring out more detail from the image so that the dose can be lowered further."
"What is driving Agfa HealthCare is achieving the optimum balance between the lowest possible dose delivered to patients while achieving the highest level of diagnostic information required clinically to treat that patient," he said.
More on the subject:
More on companies: