Evolving bacteria present new and difficult problems
Ireland - Researchers are investigating a new breed of bacteria that carry extended spectrum beta-lactimases (ESBLs) enzymes which can destroy many common antibiotics, including penicillins and cephalosporins.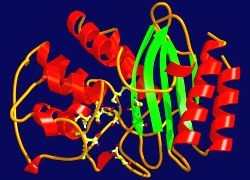 These multi-resistant strains have appeared not only in hospitals, but also in nursing homes as well as in the community.
In the UK, during 2003 and 2004 a severe outbreak of cystitis was caused by E. coli bacteria that could produce a particular type of ESBL.
Researchers at the National University of Galway wanted to know how common similar strains of antibiotic resistant bacteria are in Ireland. 'Our results showed that ESBL producing bacteria, especially of the type that caused those bladder infections in the UK, are now common in Ireland as well as in other countries in Europe. We also showed that they are not just found in hospitals but also in nursing homes and in the community,' said Dr Dearbhaile Morris.
Their study of 732 samples, obtained at 22 Irish hospitals over the past decade, showed that 61% tested positive for bacteria that produce this enzyme. 'The ability to make ESBLs enzymes spreads very easily between different types of bacteria,' Dr Morris explained. 'It lets them break down many different penicillins and cephalosporins. So the genetic ability to resist very important antibiotics often spreads with the ability to make ESBLs, and that means doctors increasingly have to use antibiotics which in the past were held back for exceptional cases.'
'It is very important to track the spread of antibiotic resistant bacteria so that doctors have the information to make a good choice of antibiotic in the early stages of infection before the lab has had time to find out exactly which type of bacteria is causing the infection and which antibiotic they can depend on to work,' Dr Morris pointed out. 'ESBL producing bacteria can break down several of the most commonly used antibiotics in clinical practice today so it is important that we know how common they are.'
Professor Kevin Kerr, consultant microbiologist at Harrogate District Hospital, said: 'MRSA is often thought of as a hospital superbug, but we are becoming increasingly aware of strains that are causing infections outside hospital. The emergence of community MRSA underlines just how good bacteria are at evolving to present us with new and difficult problems to solve.'
Among other potentially lethal MRSA strains discussed at the Federation of Infection Societies Conference held in Cardiff, Wales, last November (
www.britishinfectionsociety.org
), were the Panton Valentine leukocidin (PVL) strains of community-acquired MRSA. These can cause necrotising pneumonia, which destroys lung tissue. Although this only occurs in a minority of those infected, it can be deadly – at worst, causing death within in a day.
The condition is spread in the community by skin-to-skin contact. 'These new strains of bacteria appear to be able to stick to damaged skin and airways better than the hospital MRSA strains, and they can also multiply at a faster rate,' explained Dr Marina Morgan, of the Royal Devon and Exeter Foundation NHS Trust.
Up to recently, these strains have mainly been spreading in the USA, where 12% of all MRSA cases are community-acquired, but an increasing number of cases have been reported in the United Kingdom.