News • POC hemoglobin analyzer
EKF introduces mobile data management solution
New POC Connect data management smartphone application enhances DiaSpect Tm's use for rapid, remote hemoglobin analysis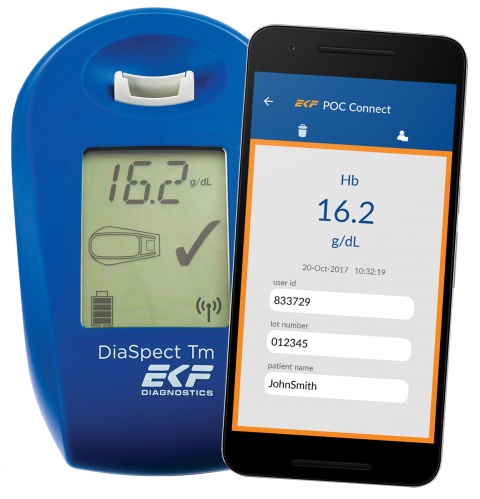 EKF Diagnostics, the global in vitro diagnostics company, introduces POC Connect - a data management smartphone application for its DiaSpect Tm hemoglobin analyzer. At Medica 2017 on Stand H3/C70, EKF will be highlighting how DiaSpect Tm is the only reagent-free hemoglobin analyzer with mobile connectivity. Lightweight and palm-sized, the DiaSpect Tm analyzer delivers laboratory quality hemoglobin results within 2 seconds at the point-of-care (POC). Now with the availability of POC Connect, this makes it ideal for mobile health checks and anemia screening in a range of locations, environments and climatic conditions.
Connectivity is a key requirement for POC devices

Katja Lemburg
The new POC Connect mobile app is the world's first mobile data management solution for a reagent-free hemoglobin testing device. It is a simple android application that enables the storage, access and transmission of hemoglobin results directly from the DiaSpect Tm analyzer to a smartphone via Bluetooth® technology. DiaSpect Tm can be purchased with integrated Bluetooth, meaning there is no need to purchase an additional external Bluetooth dongle.
This new POC solution will prove useful in countries with challenging environmental and geographical conditions where remote hemoglobin testing and access to internet can be difficult. All that is needed is an android phone and DiaSpect Tm device to record hemoglobin results with dates and times and then add unique identifiers, such as Patient ID, User ID, QC information, Cuvette LOT numbers, and comments. Data is synched and stored on the smartphone in a history list for easy access. Data can then be transferred at any time as a protected CSV file and added to a central database or lab information system (LIS) as required.
Highlighting the significance of the new POC Connect App, Katja Lemburg, EKF Diagnostics, said, "Connectivity is a key requirement for POC devices. Within developing countries there is a growing demand for mobile data management solutions due to the lack of permanently available internet infrastructure and the bi-passing of more traditional land-line installations. Having connected POC hemoglobin testing with the DiaSpect Tm via Bluetooth and 3G/4G mobile networks makes it an ideal solution to record data in the absence of internet connection or electricity. In addition, mobile heath care services are expanding in industrialized countries, therefore, our smartphone-based connectivity solution could also play a part in these remote clinics."
Hand held and portable, DiaSpect Tm is ideal for POCT not only due to its unmatched measurement speed, but also through its extensive battery life of 40 days continuous use, and up to 10,000 tests, without need for a recharge. Additionally, its reagent-free microcuvettes have up to 2.5 years shelf life, even after opening, and are unaffected by temperature or humidity. These disposable cuvettes can be stored from 0 to 50°C, meaning temperature controlled storage is not necessary - short term storage is even possible at -30°C to 70°C for 24 hours. This makes the device highly suited for testing in remote and/or hot and humid environmental conditions, or sites with low test volumes.
DiaSpect Tm is easy to use, requiring minimal training, as the user simply collects a capillary or venous blood sample of <10 µL in the microcuvette before inserting straight into the analyzer. Also making it perfect for POCT use in all locations, DiaSpect Tm is factory calibrated against the HiCN reference method in accordance with ICSH. No re-calibration or maintenance is needed, and it undertakes an automatic self-check between every measurement.
Source: EKF
More on the subject:
More on companies: