eHealth for safe, high quality and efficient cross-border healthcare
Health systems and health policies across the EU are becoming ever more interconnected which raises many health policy issues. On 2 July 2008, in the context of the Renewed Social Agenda, the European Commission tabled a proposal for a directive on patients' rights in cross-border healthcare. Essential precondition for cross-border healthcare is the existence of electronic health record systems that deliver data any time, any place — no matter where patient or doctor are located.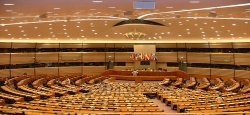 In 2004, the Commission adopted the eHealth action plan - which covers everything from electronic prescriptions and electronic health records to new information systems that reduce waiting times and errors – to facilitate a more harmonized European approach to eHealth. The plan sets out the steps needed for widespread adoption of eHealth technologies across the EU by 2010.
Cross-border interoperability via information and communications technology
A recent example of European progress in eHealth-supported cross-border healthcare delivery is the Smart Open Services (S.O.S.) project. Co-funded by the European Commission through its Competitiveness and Innovation Programme (CIP), it was initiated by 12 Member States and a European industry consortium. The new project will lay the groundwork for compatibility of electronic patient information regardless of language or sophistication of technology, without having to establish a common system throughout Europe.
Making the different Member States' eHealth systems communicate better between each other will help doctors receiving a foreign patient to get a correct general picture of the patient's medical history in order to safely diagnose and prescribe proper medication.
This will enable health professionals to quickly and electronically access selected vital data of a patient from another country, in their own language, using their usual technology systems. It will also make it possible for pharmacies to electronically process prescriptions from other Member States, so that, for example, patients travelling within the EU can obtain a refill of essential medicine. It will allow health professionals to access specific medical data such as current medications, allergies, chronic conditions or blood disorders of patients from other EU countries.
At the same time, the S.O.S project will also ensure that electronic health solutions are compatible from one country to the other around Europe including security of the personal health data and identification of the people accessing them.
In addition, the CALLIOPE network (15 other EU Member States not participating in S.O.S) and European representatives of key healthcare stakeholders will also contribute to implementing interoperability in Europe. Its main objectives include the elaboration of a common Interoperability roadmap; review and advancement of the EC Interoperability Recommendation and; facilitation of prestandardisation processes through liaison with Standards Development Organisations. CALLIOPE will also provide an expert platform to discuss the findings and the results of SOS, ensuring that these can be shared with non-participant countries and the wider healthcare community.
Still uncertainty over patients' EU rights
In the European Parliament the draft directive on patients' rights in cross-border healthcare got mixed reviews. In principle, the majority of the members appreciates the existence of a guideline paper. Some, however, emphasized that Brussels must not infringe on the right of the Member States to govern the funding and organization of their national health system autonomically. Consequently, MEPs are troubled by the question if and under what conditions the Member States are allowed to demand prior authorisation for foreign hospital care.
The debate shows that the European Commission's objective is still unclear and that many details require clarification. Most importantly, the directive has to provide a legal certainty for patients who seek healthcare in another Member State. In order to be able to exercise one's rights, it is important to exactly know them. Furthermore, MEPs demanded transparency regarding best medical treatments within the EU States. The crucial question, they say, is not whether there should be a free market for healthcare services but how cross-border healthcare can be improved in the interest of the patient.
Picture: Ala Z