Disinfection at the workstation
Made in Germany, the Induproof-Series includes keyboards and mouse (InduMouse) that are completely sealed to IP68 standards. They can be cleaned with disinfecting wipes and, impressively, submerged up to three metres in liquid or cleaned with high-pressure water jets, the manufacturer reports.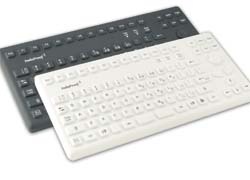 'The keyboards have a wear and tear resistant silicone top-part with special Dura-coating for excellent mechanical and chemical resistance. A study by the Phillipps University and Institute for Medical Microbiology and Hospital Hygiene, in Marburg, Germany, showed that disinfectants used in medical environments can be used on the InduProof keyboard and mouse without any harm to the equipment.'
InduKey offers flexible input option with either a separate IP68 keyboard and mouse, or the InduProof, which comes with an integrated mouse button.
Details:
www.induproof.com
. E-Mail:
info@indukey.com
, Phone: +49 (0) 3 74 68 / 650-0