Modality
Delivering lower dose through detailed diagnostic imaging
At Agfa HealthCare, we have long recognized the need for a balance between high image quality and the management of dose. With the cesium phosphor technology enhanced and empowered by the gold standard MUSICA image processing software, renowned for delivering diagnostic value images and making it easy to see details, radiologists are potentially able to provide a dose reduction of 50% to 60%*. When allied with the productivity and centralized dose monitoring capabilities of the NX Multi-Modality workstation and the PACS Dose Management solution, this combination of solutions delivers a powerful set of tools.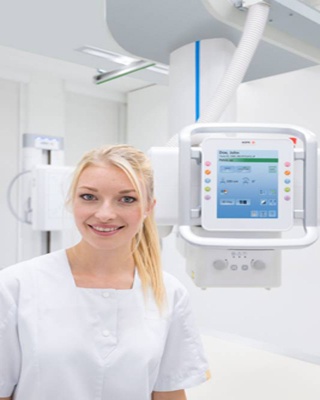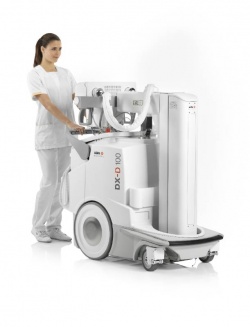 Teamwork that delivers innovation
Of course, we do not work alone in developing new capabilities within this area. Live studies at key healthcare sites across the world are essential to refining and enhancing new and existing solutions, and we work regularly with interested parties to assess the practical application of our solutions. It is this approach that helped lead to the development of the DX-D 100 – our mobile DR solution – and just recently to the introduction of a number of innovations that will make it even easier to operate.
FreeView technology enhancement to our mobile DR solution
When we consider the different market segments – retrofit DR, room DR, and mobile DR – mobile is the fastest growing of the three. Now, with our latest innovation – FreeView technology, which is essentially a telescopic column that the technologist can lower to offer an unobstructed view while driving the system through hospital hallways – we are making the DX-D 100 even more user friendly. FreeView minimizes the risk of accidentally driving into anything – or anyone – en route to the examination. The mechanism it uses requires no battery power, is faster to position, and delivers high reliability when it comes to maintenance and performance.
Committed to delivering new products and solutions
Enhancements to the DX-D 100, however, represent just part of our commitment to our DR solutions portfolio. The DR 600 room includes the latest auto-positioning technology and fully automated tracking. ZeroForce Technology means manual movement of the tubehead in all directions is quick and takes almost zero effort. As part of our value proposition – a key element of our Fast Forward plan – we provide turnkey solution packages covering technology, user training and service, and financing. We have already introduced automated exposure retrofit products that allow us to retrofit any X-ray system from CR or analog to DR within one hour, and we are continuing to add additional formats to our automated exposure technology. We also continue to introduce additional DR rooms to further expand our line of DR solutions.
With these, and forthcoming innovations, we at Agfa HealthCare believe we are signaling clearly our commitment to being a dominant player in DR technology and we will continue to innovate and bring out new products and new product lines to achieve that goal.

*Testing with board certified Radiologists has determined that Cesium Bromide (CR) and Cesium Iodide (DR) Detectors when used with MUSICA processing can provide dose reductions between 50 to 60% when compared to traditional Barium Fluoro Bromide CR systems. Contact Agfa for more details.
More on the subject:
More on companies: