Sponsored • Enterprise imaging
Cut through the AI hype
An Enterprise Imaging (EI) strategy addresses and solves problems before AI is adopted
Report: Mark Nicholls
It's time to cut through the hype surrounding artificial intelligence and begin to understand the reality in terms of application in radiology. With many different algorithms available that cover a growing array of diagnostic and interpretational areas, Dr Anjum Ahmed believes hospitals and care providers now need to ask the right questions when weighing up AI implementation in their clinical practice.
Not only is choosing the right application(s) imperative – and particularly asking key questions about what clinical programme they want to improve and the clinical challenges they want to address – but they must also focus on effectively embedding it into their workflows, instead of deploying AI on its own.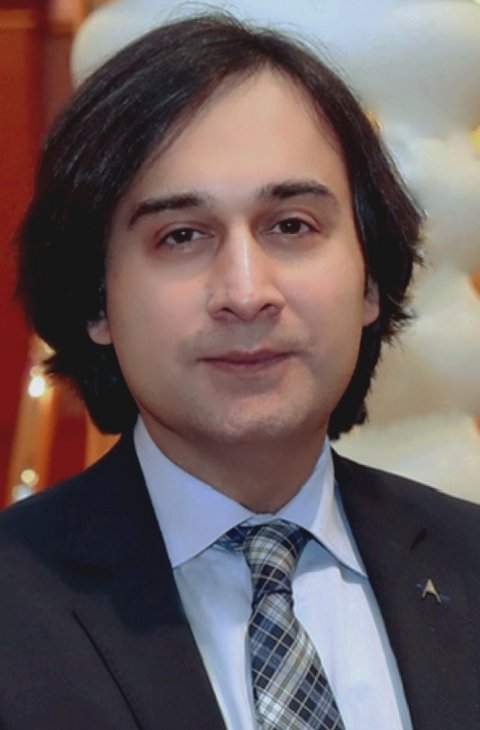 Stressing the need to 'cut through all the hype about AI' and to understand industry dynamics, he pointed out that, with the array of algorithms now available, it is challenging for healthcare providers to decide where to begin. 'The discussion has initially been whether AI is going to replace physicians,' he added, 'but I think the realisation now is that AI is not there to replace physicians; it is more about how to validate and use AI in clinical practice with measurable benefits.'
In terms of industry dynamics, he said, the issue for care providers is knowing which imaging-use cases and applications are useful for their clinical needs, the regulatory clearance status, and which are still in the R&D phase. 'There may be a dozen algorithms on the market already for the same clinical use case, so the question is how to decide, as a care provider, what direction to go in,' he said.
That becomes further complicated, for example, with AI Apps focused on detection of cancers, as each of the AI apps may be focusing on a specific feature or functions. For example, one AI vendor might be offering a Chest CT nodule detection algorithm, while another vendor may be focusing on nodule analysis and automated measurements. How do we then embed these multiple AI algorithms into workflows while keeping in mind that, internationally, there are variations in terms of how care teams are organised and review clinical findings.
When creating a clinical programme-focused approach, Ahmed believes that embedding AI into existing workflow offers a strategic opportunity in radiology. This has brought into focus the importance of an Enterprise Imaging (EI) strategy that addresses and solves some of the basic fundamental problems before you even bring AI into the mix, Ahmed pointed out. 'The core of this strategy is establishing a data rich imaging repository…and on top of that data lake, having a workflow layer that can read into the metadata that AI algorithms will generate; that is where a seamless user experience demanded by radiologists and clinicians is embedded into their workflow, providing real-time analytical intelligence.'
He pointed to Agfa's Enterprise Imaging rules-based workflow engine that organises, sorts, prioritises and drives tasks, and is customisable for a specific organisation's needs. 'The rules engine has multiple criteria that can be used to automate some of the routine tasks that diagnosticians or radiologists are manually conducting today, even populating automated structured reports,' he said.
He highlighted that some early adopters who have implemented AI algorithms in isolation of their PACS, realised that their radiologists were not as productive as before, because AI was not embedded into their workflow. 'This is where Agfa comes in with a strategy around embedding those best-of-breed AI applications into the workflow focusing on clinical programs,' Ahmed said. 'Start-ups that have developed AI algorithms have done a good job in developing niche applications, our strength is the purpose-built Enterprise Imaging platform ecosystem, and how we take a modular approach embedding these best-of-breed AI applications and ensure that the radiologist has a seamless experience for the selected use case.'
Agfa believes that a governance team of interdisciplinary clinical leads sits at the heart of an effective EI strategy. The EI solution should enable workflow orchestration and real-time tools for communication and interdisciplinary collaboration. A Chest X-ray done on a patient in ICU might indicate tube malposition or pneumothorax, or another critical finding picked by AI; The rules-based workflow engine should then be able to escalate X-rays with critical findings at the top of the radiology worklist, prioritise the review task and generate a preliminary report for the diagnostician to review.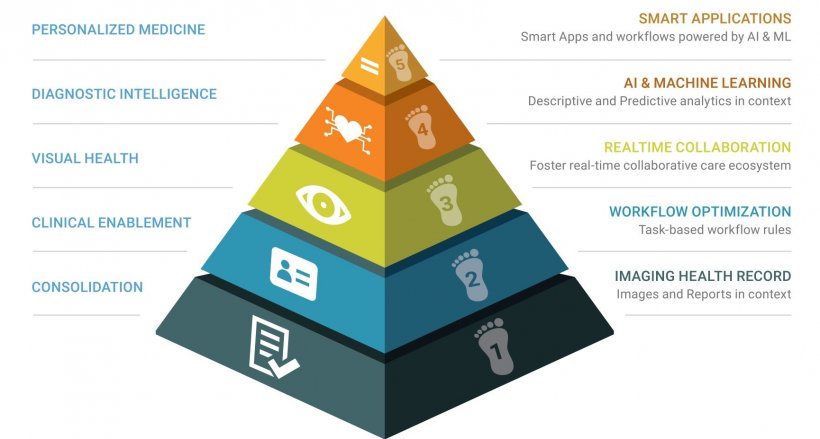 Another point Ahmed made was about value-based care alignment (cost, quality, outcomes) and the impact on outcomes (clinical, operational, financial) and an evidence-based approach. 'An algorithm may be very good with its sensitivity/specificity results based on retrospective analysis of data during development, but what does it mean in terms of clinical productivity, early disease detection and improved outcomes based on prospective studies?' he asked.
It's not just the workflow, but more about the role diagnostic imaging can play with the use of AI

Anjum Ahmed
The 'holy grail' is about bringing care program-focused best-of-breed applications to enable precision diagnostics. 'It's about educating the audience; while the hype around AI is subsiding and reality is now upon users, the sense of realisation is that they should not be creating technology silos associated with these multiple AI algorithms, Ahmed concluded. 'That's where the user community and care providers are beginning to realise that a platform strategy with EI makes sense because it builds a secure, modular and scalable ecosystem. It's not just the workflow, but more about the role diagnostic imaging can play with the use of AI, becoming powerhouses of evidence-based analytical intelligence, helping to improve care outcomes on the path towards precision health.'
Profile:
Anjum Ahmed MBBS, MBA, is Chief Medical Officer and Global Director for Imaging IT Solutions (steering strategic innovation initiatives for Enterprise Imaging), at Agfa HealthCare, which he joined five years ago after 12 years at a top-tier global healthcare vendor, he was responsible for launching Agfa's innovation strategy relating to AI and other 'ologies' (beyond radiology/cardiology).
More on the subject:
More on companies: