Creating the essential link
While clinical labs and lab IT solutions appear to be able to meet current requirements, biobanking presents a whole new world of challenges to data flows and IT systems.

Report: Michael Reiter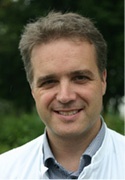 Dr Stefan Holdenrieder from the Institute of Clinical Chemistry and Clinical Pharmacology at Bonn University Hospital in Germany, describes major trends, and explains why information technology should help to build the bridge between labs and biobanks.
IT requirements in the lab include the management of sample identification and workflow, organisation of materials and staff, provision of a systemic computerised order entry function, administration of the hospital point of care (POC) system and data storage. Quality management plays a key role; results must be validated technically and medically, i.e. Were the analytical processes carried out correctly? Do the sample and medical results correlate with the information about the patient? Finally, IT needs to facilitate the creation of a detailed report describing the findings and conclusions regarding the case.
According to Dr Stefan Holdenrieder the available lab IT systems fulfil many of these requirements, while each solution has its strong and weak points. Solutions differ widely with regard to medical plausibility checks and have to be optimised for each laboratory. Convenience in handling the systems also varies greatly; good examples are the creation process of complex reports for, e.g. protein analyses of urine and cerebrospinal fluid.
The particular challenge
He emphasises that total quality management is a particular challenge for lab IT systems since all lab processes need to be defined and documented. SOPs of these processes including equipment and test configurations and internal workflows have to be kept up to date, controlled regularly and stored in data repositories as directed documents. Thus given processes and SOPs related to them can be tracked back to the time they were carried out. Any process modifications and updates should be communicated in a way that allows the staff to comply with new regulations. RiLiBÄK, the lab guidelines of the German Board of Physicians, have added enormous challenges to IT systems, according to the expert but, over recent years, they have made routine lab work a lot easier and more reliable.
Commercially available IT systems, Dr Holdenrieder concludes – in general – do a good job in fulfilling the basic needs in a modern lab. However, it is a considerable challenge for each lab to adapt it to local requirements.
Biobanks are extremely heterogeneous; they range from small operations with a deep freezer to huge robotics-assisted installations, the expert pointed out. The management at his university hospital decided to pull together the numerous isolated activities, and create a central facility where samples from all institutes and clinics across the campus can be stored, administered, and utilised for research purposes. At this time, most of these activities in Bonn and elsewhere are driven and supported by research organisations; the aim ought to be to set up service units where samples can be stored and made available for researchers within or – subsequent to clearance – outside the individual organisation. 'We are now in the process of creating such a service centre,' he said. 'We are orienting ourselves towards successful implementations.' The emerging Bonn biobank holds both biofluid and tissue samples, whereas in other institutions in Germany, pathology departments store tissue separately.
Far beyond sample storage
What makes biobanks different from simple sample storage? Biobanks should fulfil more requirements than to store, identify, and hand out samples – and they depend largely on IT to do that. Their portfolio of tasks includes, e.g. pseudonymisation, disassociating the sample from the real patient name using a unique ID, e.g. 2-D barcoding; the same holds for the sample aliquots.
To link that information to the hospital information system (HIS), or disease registers, adds details about the patient, e.g. his/her tumour status, therapy and outcome, adding significant value for research. Again, quality plays a key role: information about pre-analytics has to be documented – e.g. when the sample was taken and how it was handled. 'Standardisation is the only way this can be achieved,' Dr Holdenrieder believes. 'Time and temperature stamps must be part of the documentation.' Today, samples can only be collected if consent from the patient and an ethics board has been granted; that approval also needs to be stored with a link towards to the sample and its aliquots. While sample documentation is covered well by some commercially available systems, adding clinical information, including co-morbidities, medication, response to therapy, as well as adding clinical updates, is a challenge that still needs to be met.
Sample management has to integrate information about contracts with contributors and users, supporting the core aim of a biobank; consent from contributors regarding individual sample requests needs to be recorded in an IT system. To create value for all actors in the research community, study management should include the backflow of study results based on samples used. Handling fees can support the financing of biobanks and the IT supporting their operation.
A valuable link to the lab
'The link to lab IT can open up another source of highly valuable information,' Dr Holdenrieder emphasised. 'Laboratory results provide diagnostic details about the patient that can be pivotal to any research findings.'
Further synergies can be created if biobank and lab processes are integrated. Sample identification, automated sample handling by robotics, quality check and data transfer can be used for both purposes. 'Ideally, lab, clinical and biobank information are merged in a data warehouse that allows efficient data handling and mining,' he added. A close link with clinical study centres would greatly facilitate the performance of clinical studies.
Most universities maintain biobanks, he said. Harmonising approaches across these institutions, across borders, will help advance research on rare diseases, for example. 'In interfacing these actors, IT plays a core role.' Commercial systems that integrate top data security levels and lifecycle management for samples will serve as a basis and adaptation to the givens of the individual institution by a dedicated on site IT team will help create essential solutions for tomorrow's biobanking community. Government-driven subsidies should include support for IT.
Profile:
Stefan Holdenrieder MD, is a senior physician at the Institute of Clinical Chemistry and Clinical Pharmacology of the University Hospital Bonn. He coordinates the University Biofluid Biobank Bonn that cooperates closely with the University Tissue Biobank and is associated with the Center of Integrated Oncology (CIO) Cologne-Bonn. In his "Biomarkers" research group he develops and evaluates new techniques and biomarkers for their clinical use in diagnosis, prognosis, and therapy monitoring of patients with cancer, (auto)immune, neurological, and inflammatory diseases, as well as trauma.