Continuous renal replacement therapy
The Prismaflex monitor, produced by Gambro Healthcare provides extra therapy options and features for continuous renal replacement therapy.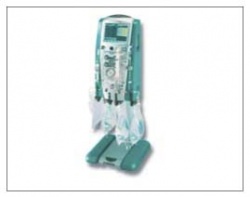 The monitor's user-friendly interface combines vivid colours and clear graphics on a large 12 inch touch screen, the manufacturer reports: 'Step-by-step instructions on the screen makes installation of the set very easy, as each step is accompanied by an illustration with colour codes matching those of the sets. The Prismaflex monitor will automatically load all pump segments and the circuit will be automatically primed quickly and completely.'
Designed to be more proactive, its safety system offers features such as automatic barcode identification of the set and customised default safe values. 'Fewer manual interventions are required, as the alarm system is more responsive, with the ability to analyse, and in some cases, correct problems on its own without compromising safety,' the firm adds. It also has a unique air management system, including a de-aeration chamber, with automatic blood level adjustment, keeping the extracorporeal volume very low.
A new 'pre-blood pump infusion port' allows the infusion of supplemental solution for haemodilution or anticoagulation of the set (Citrate). In addition to a new, fifth infusion pump, the monitor comes with two integral 'pinch' valves to manage pre- and post-solution infusion. 'Now, it is possible to change between pre- and post-infusion even during a treatment, using the same set,' the manufacturer explains. 'Therapeutic flexibility is improved, while operator interventions are reduced.' The monitor has four high-precision scales, ergonomically designed to facilitate bag handling. Three independent infusion scales allow the use of different fluid compositions.
The larger blood pump provides for higher blood flow rates and high flow treatments, and the monitor has wide flow rate capabilities.
* Gambro Healthcare is one of the world's leading providers of dialysis clinic services.
The business area operates in 14 countries and treats about 11,000 patients in around 150 clinics.