Cardiac centre raises hygiene standards
Many hospitals pay more attention to complex hygiene solutions they do on another, simple solution: hand washing.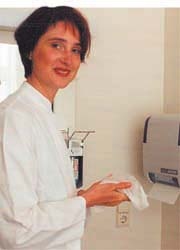 The paths of bacteria, viruses and fungi that cause nosocomial infections are manifold. However, many hospitals pay more attention to complex hygiene solutions they do on another, simple solution: hand washing. The will consider the maximum germ penetrability of surgical textiles; equip operating theatres with complex ventilation systems and establish complex hygiene management system for MRSA patients, yet germs continue to be spread - by the hands of medical and nursing staff, caterers, technicians and even visitors.
In many cases, the hygienic benefit of such expensive precautionary measures has either not been scientifically proven, or it is vastly disproportionate to the cost involved, e.g. there are still no studies available to show that a single hospital infection was, or is likely to be prevented by highly technical and cost-intensive surgical ventilation systems. Nevertheless hospitals invest much time and money in implementing relevant legal, though often impractical, requirements.
Hand hygiene is also prescribed by law. Nevertheless, it is widely recognised that serious deficiencies in this are found in many hospitals, despite the potential major hygiene benefits at relatively little cost. So why do many hospitals still focus on complicated hygiene technologies rather than on simple hand disinfection?
For over a year, the services and logistics firm Gesellschaft für Dienstleistung und Logistik (GDL), which has 40 employees, has supplied the 250-bed cardiology centre in Bad Krozingen with supplementary services, including bed cleaning and other cleaning services and logistics tasks. Daily, this hospital carries out complicated cardiac interventions. It is also one of the few German hospitals that willingly accepts MRSA patients. To do so the clinic has its own hygiene management system.
Hans-Jörg Grote, GDL's Director, emphasises that hygiene begins in the sanitary rooms of the clinic - with hand washing. 'With this trivial procedure a lot can be done to improve hygiene - with very little money - because, according to experts, if, after washing your hands, you dry them carefully with a disposable towel, this alone removes about 90% percent of germs from the hand.'
Obviously therefore, careful drying with a disposable towel is as important as hand washing, which means that sanitary rooms should, at all times, provide high-quality paper towels. Hans-Jörg Grote acknowledges this is a banal task, but one that has seen no less progress in recent years than surgical room ventilation.
Seeking improvement in the clinic, the purchasing manager Holger Klein tested, over an extended period, used the new Ultimatic hygiene system manufactured by the Finnish firm Metsä Tissue. This includes towel dispensers, toilet paper, soaps, disinfection towels, sanitary bags and corresponding sanitary bins. The company reports that the system ensures no paper rolls are left lying around toilets, no paper falls out of dispensers, no questionably hygienic folded paper towels are used, and there are no overflowing waste bins, or empty dispensers.
A reserve roll, integrated into the dispenser, falls automatically into place once the previous roll is empty. Paper consumption is considerably reduced. The dispenser releases only a single towel, also preventing transfer of germs on the towel 'With an absorbency of 16 g it easily soaks up the typical residual moisture of 9 g from hands after washing,' Metsä Tissue points out.
From the practical tests, H-J Grote reported that the system has been widely accepted by the staff, in part because the paper is particularly absorbent and soft, making it easy on frequently washed hands.
Using the Ultimatic paper towel dispensers, in some periods the cardiac centre the reduction in paper consumption was over 30%. Moreover, the intervals for refilling the dispenser could be extended from once daily to twice a week. 'So the clinic is saving time as well as money,' said Holger Klein. It is not as easy to calculate benefits for hygiene, but, he added: 'Clean sanitary rooms also contribute greatly to creating a better image, because this is an aspect that patients and visitors are far better able to judge than, for example, the quality of the medical services.'
H-J Grote plans to gradually extend the use of Metsä Tissue's new towel dispensers - which have been used there not only in the lab and blood donor are, but also in staff and visitors' toilets - to all hospital sanitary areas.