Robotic Care
Ambient Assisted Living Systems on the rise
New technologies in healthcare and geriatric care promise great benefits. A Congress held by the Evangelical Academy in Berlin, Germany at the end of February provided a platform for discussions around the potential as well as the risks of new technological developments and trends. Furthermore, the event also saw the introduction of an instrument which can be used to check the ethical dimensions of new developments.

Report: Bettina Döbereiner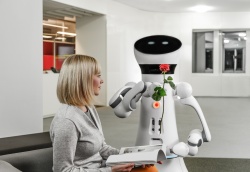 At the moment we are still able to decide how we would like to be treated if we become ill or in need of care in the future. If we believe the prognoses on demographic change, this won't remain easy, unless the German society agrees to a decisive migration policy to help ensure that the treatment of the sick and ill in Germany can be safeguarded in the future.
Along with the option of implementing selective, work-related migration, the technological advances which have developed rapidly over the last few decades offer the potential to take the strain of nurses and carers, or even to replace them. Countries such as Japan and Germany which are strongly affected by demographic change are therefore making large investments into the development of these technologies.
Ambient Assisted Living
The talk is of Ambient Assisted Living Systems. These are aimed at creating an "intelligent" environment which can adapt independently, proactively and situation-specifically to the needs and objectives of its users. The systems are designed to enable elderly people and people in need of care to stay in their own homes for as long and as independently as possible. The range of AAL systems already available along with those currently being developed is huge. They range from hobs which automatically turn off after a certain period of time, to shoe soles equipped with GPS to help track people suffering from dementia, to systems used to lift patients right down to complete nursing robots. Four of these AAL Systems primarily designed for use in geriatric care were introduced at the Congress of the Evangelical Academy Berlin. Two of them are already in use, the other two are still under development. We will introduce two of these systems here: SAMDY and Care-O-bot 4.
Networked Living – SAMDY
SAMDY stands for Sensor-based Adaptive Monitoring System for the behavioural analysis of the elderly and, following a development- and pilot phase in 2013, is now used on a regular basis by the Social Network St. Georg, a regional care provider. The idea: To help enable old people to live in their own homes for as long as possible, their flats and houses are fitted with a range of sensors which register their daily movements and actions. These are motion sensors and contact sensors fixed to external doors, but also to fridge and oven doors along with tracking systems and bed sensors. The latter can register movements during sleep and different depths of sleep as well as monitoring the heart rate. As soon as the sensors register a breach of the norm, specified as deviations from pre-defined, normal behaviour(s), a warning system alerts members of the (nursing) care service wirelessly so that they can immediately take the appropriate measures.
The Service- and Care robot Care-O-bot 4
A robot developed by a Working Group at the Fraunhofer Institute for Manufacturing Engineering and Automation in Stuttgart is not yet being used. Development of the 4th generation of Care-O-bot was only finished at the beginning of the year. As a mobile service- and care robot its purpose is to assist the user in the household and, just like SAMDY, to enable the user to live as independently a life as possible in their own home for as long as possible. Care-O-bot safely moves around people, recognises typical household objects, can grip them and take them to certain locations, can set the table or open doors and drawers. With respective programming, it also reacts when someone has fallen and is lying on the floor, immediately establishing contact with an emergency service provider.
How do we want to live?
Advanced AAL technologies such as robots are not yet fully utilised worldwide, but their development and testing is already advanced to such a degree that we can soon expect them to be widely used. However, before this happens we should ask ourselves: Do we want this? Do we want to live at home alone and surrounded by technology when we are ill or old? Do we want our every movement registered and passed on to third parties, as is required for the concept of the SAMDY system? Do we want a robot to bring us water? This is an individual issue as well as one for society as a whole, and all of us should think about answers here to ensure that we don't feel we have become overtaken by these developments. This is the firm opinion of Dr. Arne Menzeschke, Head of the Department for Ethics and Anthropology at the Institute for Technology, Theology and Natural Sciences at the Ludwig-Maximilian University Munich and one of the organisers of the Congress.
Ethical Evaluation Instrument MEESTAR
Therefore he developed a tool for the evaluation of AAL applications in the context of a study initiated by the Federal Ministry of Education and Research ('Ethical Questions around Ambient Assisted Living Systems') which collects the advantages and disadvantages of new technological approaches and developments and all their aspects (legal, economic, social and moral) and evaluates them. Since 2012 there has been a recommendation that all AAL projects promoted by the Federal Ministry of Education and Research should carry out a MEESTAR, i.e. a Model for the Ethical Evaluation of Socio-Technological Arrangements, in the form of two-day workshops.
The conclusion: Whilst we still have the cognitive facilities we should each answer the question as to how we would like to be looked after and cared for in the future, and we should establish procedures which allow us to live a truly self-determined life to the end.