Airline tests in-flight telemedicine
Lufthansa - the first airline company to offer high-speed broadband internet connection for data transmission - has used the trial phase of its new in-flight internet service, Lufthansa FlyNet, to test telemedicine potential on board.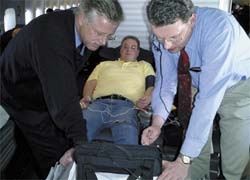 A patient's vital parameters (e.g. blood oxygen levels and ECG) can be transmitted from an aircraft to a ground station, for diagnosis and returning medical advice for crew or a medical professional on board to treat a patient appropriately. In critical cases, the firm says, information from the ground station will enable a pilot to decide whether to divert to another airport.

Lufthansa conducted the tests in co-operation with the German Aerospace Centre (DLR). Doctors at DLR checked the suitability of different prototypes of medical equipment under real conditions on a number of flights between Frankfurt and Washington. 'This project fits in perfectly with our longstanding commitment to aviation medicine research,' says Professor Uwe Stueben, head of Lufthansa's Medical Service.

In addition to an in-flight medicine chest, first aid kit and well-equipped doctor's kit, Lufthansa carries defibrillators on all long-range aircraft. These are used to help the crew to resuscitate passengers in the event of sudden cardiac arrest. Lufthansa also works with International SOS, a specialist service provider offering round-the-clock emergency medical support.