A picture is worth a thousand words
Want to put a message across quickly? Answer: Show an image. A starving child with huge tearful eyes prompts an instant flow of charitable donations.

Report: Brenda Marsh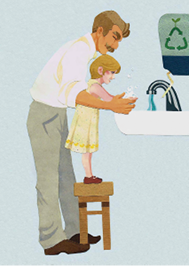 The same message in words might go unread, or a response would take longer – or worse, be forgotten. So, how do you tackle that BIG hygiene message – Wash your hands!?
Promoters of the European Tissue Paper Industry Association (ETPIA) hit on the idea of offering top prizes to any young graphic designer who could devise an eye-catching cartoon. Aptly, the European Tissue Symposium Cartoon Contest winners were announced on Global Hand Washing Day*, and their work is now exhibited in Bologna, shown on Facebook, and will become part of a wider social media roll-out to stress hand hygiene importance in infection containment.
The International Cartoon Contest Winner is Rahim Biyarash, from Iran, for his design 'Soap – paper'. Christian Ghisellini, chairman of the judges, said: 'Rahim charmed us with his extreme synthetic design and ironic approach. He has captured the concept and the theme perfectly.'
Elisa Canaglia, from Italy, won 1st prize in the ETS Academy Cartoon Contest for her design 'Our Future'. 'Hand hygiene is such a key part of our daily life; that's why I depicted its importance in a childhood memory almost everyone can relate to,' she explained.
Three specialist ETS prizes were also awarded to Erica Dalle Luche for 'Just relax with tissue'; Martina Tonello for 'Soapy Pirates' and Chiara Martinelli for 'Racoon'.
Handwashing with soap, ETPIA emphasises, '…could save more lives than any other medical intervention and is critical to meeting the Millennium Development Goal of reducing deaths among children under five years old by two-thirds by 2015. The importance of hand washing and drying is further underlined in the recent consensus statement* from six eminent European microbiologists and hospital hygienists. It concludes that hand drying completes the hand washing process by reducing the transmission of microbes and that a system should be chosen that takes into account the risk of contaminating hands, other individuals or the environment. This has significant implications for the spread of infection in public washrooms and healthcare environments.'
* Global Hand Washing Day is on the annual calendar of governments, schools, NGOs, private companies and scientific organisations around the world to promote good hygiene and health.
* Consensus statement:
http://www.europeantissue.com/hygiene/expert-consensus-statement/