37 French hospitals opt for Orbis
Agfa HealthCare has won a contract to install the Orbis Clinical Information System (CIS) in 37 hospitals in the Assistance Publique - Hôpitaux de Paris (AP-HP) group.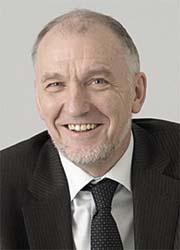 The order is worth ?95 million. 'It is the biggest contract ever in Europe for a hospital information solution and paves the way for our position as a leading company in France,' said Christian Reinaudo, President of Agfa HealthCare.

The AP-HP is a public health organisation comprised of 37 hospitals with about 23,000 beds, serving a million in-patients annually in the Ile de France region.

Agfa HealthCare has put together a multidisciplinary team to ensure the progressive implementation of this project. 'The programme is divided into three phases,' Christian Reinaudo explained. 'The first runs for 18 months, during which we will adapt our software platform to the hospitals' needs, since the modular design of Orbis allows for specific customisation. Then, we will team up with the AP-HP team and have six months to deploy our IT solutions to the first three pilot facilities. During the following three years, up to the end of 2013, the AP-HP trained teams will deploy Orbis into all other hospitals.'
To bring the project to a successful conclusion, the company will manage a consortium with Cap Gemini, HP and Oracle.

ORBIS is Agfa HealthCare's leading Hospital Information System (HIS) integrated with a Clinical Information System (CIS). It manages and monitors all patient-oriented processes: medical data, including images, nursing, administrative and business documentation, thus providing fast and complete availability of patients' histories to authorised staff. Agfa points out that a core strength of this HIS-/CIS-software is its simplicity.
Jo Cornu, CEO of Agfa-Gevaert NV, is convinced that IT implementation in healthcare sector is a key element to more efficient, streamlined and cost-effective care; he is also sure that healthcare will continue to grow within the global economic market. As a 2006 study run by Agfa HealthCare revealed, the participating German hospitals could achieve an average reduction of process costs of 32% after the implementation of Orbis. In other words, an average 600-bed hospital could save about ?100,000 annually by changing to electronic order entry and results reporting.
Report: Gabriela Eriksen, European Hospital.
Agfa will show its state-of-the-art solutions in Computed Radiography (CR) and Imaging Informatics, with a strong focus on its Impax Data Centre for Enterprise Image Storage and Management and advanced tools for Enterprise Clinical Visualisation and Integrated Workflow for Radiology.
Hall A, booth 4800 Chicago.
30 November – 5 December

More on the subject:
More on companies: