Turf Battles in IT
Radiologists as IT experts - necessity or excessive demands?
The introduction of digital imaging in all fields of radiology and digital workflow using RIS and PACS has led to fundamental changes in the daily work of radiologist. Professor Davide Caramella, MD, Associate Professor of Radiology, University of Pisa, Italy, described how IT supports radiologists in their daily work and why radiologists need to keep up-to-date in IT.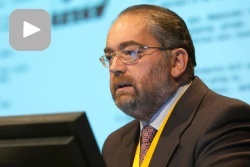 "Radiologists are among the medical professionals on whom the demands in terms of continuing education are most stringent. Not only do they have to follow the advances in the various medical specialties, but they also must keep up-to-date on the dramatic improvements of imaging modalities realized by scientific research and by vendors' R&D. In view of this situation, there is very little risk of incurring a "turf battle" between radiologists and IT experts. Radiologists are simply too busy for this, and when they are forced to devote a relevant part of their time to IT, thus becoming 'experts', this is due to a lack of specific expertise in the IT departments of the hospital."
"On the other hand", Carmella adds, "it is true that a strong collaboration must exist between radiologists and IT experts in planning and maintaining the information systems that are crucial for a seamless electronic management of the imaging workflow, hence the necessity of having a few radiologists with IT knowledge and – possibly – 'vision'. A vibrant international community of radiologists of this kind has grown throughout the years, thanks to scientific societies and congresses such as EuroPACS and CARS (Computer Assisted Radiology and Surgery)."
"However, for most radiologists IT is just a tool of the trade: it enables interaction with their PACS systems, is required for image processing and in teleradiology applications. These features of the radiological profession require initial IT literacy and a continuous upgrade of IT skills. Therefore, starting from the residency programmes, the emphasis on teaching IT in radiology has been steadily growing and, very often, IT is both the end and the means of such education. In fact, e-learning is particularly well suited for educating young doctors and for updating practicing radiologists on the advances of IT applications in radiology."
Caramella is active in the Italian Society of Radiology (ISR) where he has served as secretary and Member of the Board of the informatics study section and the section's President.
Eight years ago, Caramella introduced the IHE in Italy, and he is currently organising the European IHE Connectathon to be held in Pisa in 2010. Among his most rewarding international obligations has been involvement in the promotion of IT-related activities of the European Congress of Radiology (ECR). Since 1995 he has been on the ECR's Programme Planning Committees and will serve again for ECR 2011.
For almost a decade, Caramella has continuously served on the congress committees of the CAR/CARS annual meetings. He is among the founders of Eurorad, the on-line database of radiological teaching files of the ESR, and is Chairman of the society's e-Health subcommittee. Currently he is also Scientific Director of Eurorad.