What' s new in information technology?
This remains critical in radiology and demand rows for even more rapid report turnaround and quicker access to imaging, especially for cancer.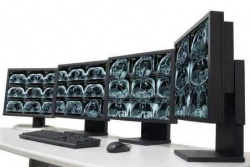 Voice recognition software is gaining popularity with many radiology departments adopting it as an alternative to conventional transcription services. Totally integrated RIS/PACS solutions is also desired to optimise a distributed workflow, in which radiologists can be in several locations, taking advantage of teleradiology and remote reporting.
Whilst the benefits of teleradiology as a diagnostic tool continue to grow, concerns have been raised about the lack of uniformity in reporting protocols across Europe. Manufacturers, supported by clinical expertise, are continuing to develop technological breakthroughs that can give even greater diagnostic accuracy and help improve treatments.
Cost remains an issue within European healthcare systems and hospitals, but research, clinical skill and dedication continue to push forward these radiological breakthroughs that will give radiologists even more options and thus greatly benefit their patients.