UK's first Specialist Emergency Care Hospital takes shape
The UK's first Specialist Emergency Care Hospital is on target to open for the first patients in 2015.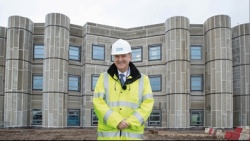 The new 210-bed hospital, in northeast England, will be the country's first dedicated to providing emergency care, with A&E consultants tending seriously ill or injured patients 24/7, from among the 500,000 people of North Tyneside and Northumberland.
Run by Northumbria Healthcare NHS Foundation Trust (and part of the trust's £200 million healthcare investment), a consultant will see a patient on arrival at the hospital.
Diagnostics are located within the emergency care department, enabling consultants to obtain test results quickly and then transfer the patient to a specialist in their condition.
Once a patient's condition improves, they will be either sent home or transferred to a nearby district general hospital for on-going treatment. It is expected that there will be 40 to 70 Major Emergency Centres across the UK as part of a process that has also seen the creation of a network of Major Trauma Centres across the country.
Recently, Sir Bruce Keogh, NHS Medical Director and author of the recent Urgent and Emergency Care Review, performed the topping out ceremony by sealing the hospital roof, a facility in line with his Urgent and Emergency Care vision. This called for larger Major Emergency Centres with the right facilities and expertise to maximise chances of survival and good recovery.
There are still walk-in A&E units at Northumbria's smaller hospitals and a top tier of the Major Trauma Unit in Newcastle, while patients with specific suspected conditions, such as heart attack, go direct to units offering percutaneous coronary intervention (PCI).
The trust runs six district general hospitals and six community hospitals, with 1,100 beds spread over a wide geographical area.
Separating emergency care from planned operations and tests will benefit patients attending Northumbria's general hospitals and could result in fewer elective procedures being cancelled due to emergency admissions.
As David Evans, Medical Director of Northumbria Healthcare NHS Foundation Trust, explained, 'Our existing hospitals were in completely the wrong place for the modern service we wanted to provide, so we decided the way forward was to build something different and look at different ways of working. The new hospital is a product of our geography.
'The move has also allowed us to redevelop our existing hospitals from six- to four-bed bays with en suite facilities and extra single rooms and to redevelop community hospitals.
'We will have the same number of beds, but they'll be distributed differently and used more efficiently.
'Our specialists are already working seven days a week,' Dr Evans explained. 'This new hospital provides us with an opportunity to further develop our seven-day working model.'
Construction began in 2012 and the hospital will have a state-of-the art A&E unit, hi-tech diagnostics, critical care, short-stay paediatric unit and a consultant and midwifery-led maternity unit.
Representatives from several other UK hospital trusts have visited the site and are following progress.
Profile:
David Evans, medical director of surgery and a practicing consultant obstetrician for Northumbria Healthcare NHS Foundation Trust, was previously clinical director of obstetrics and gynaecology. He is also the trust's lead for risk management and an assessor for the National Clinical Assessment Authority