Tactics to become comfortably mobile and wireless
Wireless networks expert Melih Duran discusses solutions to streamline and optimise patient care.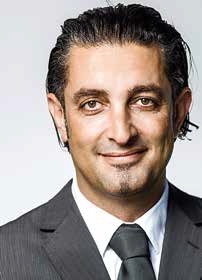 'Hospitals have to streamline their processes and reduce overall healthcare costs while guaranteeing a high quality level of patient care,' observes Melih Duran, Regional Wireless Networks Solutions Manager at Motorola Solutions. 'To meet these challenges, they need mobile solutions and a high performance wireless infrastructure, which enable them to extend mobility to the point of care and beyond. Health workers should be able to securely access and share real-time information for increased patient safety and more attentive care. Moreover, users should be efficiently supported to collaborate and keep accurate records.'

Meeting those needs 'With reliable mobile solutions and a highly available, cost-efficient wireless infrastructure, hospital operators can empower their staff to be more productive, responsive and collaborative. At Medica we are presenting our wireless network solutions that facilitate the use of wireless devices and bandwidth-heavy applications. These include high performance Wi-Fi infrastructure and management solutions, such as our WiNG 5 WLAN technology for high-speed, reliable and secure connectivity and communications.
'We provide healthcare companies with a complete range of modular network design solutions, monitoring and analyses as well as network security features for wireless infrastructure. Our technology enables medical staff to use even sensitive patient information in accordance with strict data protection regulations to administer medication, place pharmacy orders more accurately or track specimens from the lab.'

Coping with mobile device bombardments The Motorola Total Enterprise Access and Mobility (TEAM) solution is unique, he points out. 'The technology provides a fast, easy and costeffective way to enable push-to-talk communications among multiple, disparate devices, including voicecapable mobile computers and barcode scanners. 'This single integrated communications platform enables voice and data services on and between different mobile devices connected to different networks, such as push-to-talk (PTT) communications, text messaging, as well as internet and intranet access. It also provides access to corporate e-mail, calendar and other personal information management applications for efficient task management.
'The TEAM platform operates completely server-less and can be deployed through a software download and set-up. It can be easily integrated into existing IT infrastructure including Wi-Fi solutions. This helps hospital operators to achieve peak productivity and improve their return on investment (ROI) and total cost of ownership (TCO).'
Meet with Motorola Solutions Hall 15, booth E42.